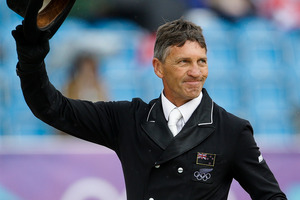 Andrew Nicholson from New Zealand reacts after he competes with his horse Nero competes with her horse Flying Finish in the equestrian eventing dressage phase. Photo / AP.
What heart break for Andrew Nicholson and Nereo finishing fourth in the Olympic individual three-day eventing.
Yes, he picked up a bronze in the team discipline which is arguably the better advertisement for New Zealand's ability in the sport.
Yes, the man has two Burghley titles, an individual world championship bronze and previous silver and bronze Olympic team medals.
Yet an individual Games medal still eludes him.
As a 56-year-old double Olympic champion, Mark Todd deservedly got the kudos going into the showjumping rounds ranked third having missed the overnight lead by 0.6s. Unfortunately that is likely to stick in the memory more than the fact Nicholson was the best New Zealand performer who contributed the most to the country's first London 2012 medal.
That's despite his justifiable annoyance when his dressage was delayed due to poor weather, a scenario he had never seen happen in his 30-year plus competitive career.
Nicholson took issue with the fact he had primed his horse to enter the ring at a specific time to be at its peak.
Like Todd, Nicholson's also at his seventh Olympics. He's no young 'un either. Nicholson turns 51 today [August 1], appropriately sharing the date with the general birthday for New Zealand horses.
Meticulous planning was a theme of Nicholson's campaign, hence the dressage gripe. Speaking to him several times in the Olympic build-up over the last couple of years he was always approachable, going out of his way to explain any horse-related minutiae to promote his sport be it breeding, course tactics or fitness regimes. The latter topic revealed Nicholson even installed a rowing machine in his home for the first time to increase his aerobic capacity.
This was supposed to be 'his time' in a country which has become a home away from home since he left his family's Waikato dairy farm and worked as Todd's groom at Badminton in 1980. There were no quarantine restrictions for Nicholson in London, he lives up the road in Wiltshire and had qualified any number of other horses if Nereo had been ruled unfit.
From a wider perspective watching equestrian live provided a better appreciation. Of all the Olympic sports, it's unique in requiring a human to be synchronised with an animal rather than an inanimate object like a bike, a boat or a baton.
As I reclined in the line of duty on the Greenwich Park grass at the cross-country with a half pint of bitter and a bacon baguette in easy reach, it occurred that equestrian requires a skill, or perhaps a relationship, that people do not appreciate enough. That epiphany struck when I just about lost some mustard and onions onto my chin as Zara Phillips and High Kingdom suddenly jumped over a planet type structure and almost into my lap. Their dexterity was captivating and the public loved it. They turned up in droves, roaring their approval from tartan picnic rugs with wicker baskets spilling forth sandwiches and cakes.
I had never seen a cross-country live, despite watching footage from past Olympics and equestrian staples like Badminton and Burghley. The courage attacking fences, the metronomic gallop across the turf and the fearless trust between rider and horse made for compelling viewing, especially with the London city skyline as the backdrop.
Training those horses must require extraordinary discipline. I had enough trouble getting my calf Bessie to lead around a square paddock for primary school agricultural day. Getting a horse to tattoo the subtleties of a 6km course with 28 jumps into its mind, not to mention the intricacies of showjumping and dressage, must make you saddle sore. So to Andrew Nicholson: happy birthday and best wishes for attending an eighth Games in Rio.