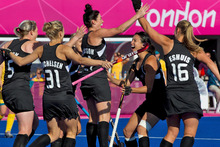 New Zealand 1
Australia 0
New Zealand have erased all memories of the Beijing debacle and created a major wave at the Olympic women's hockey tournament, beating Australia last night.
It was the first time in five Olympic matches New Zealand have avoided defeat against the most successful side in history who have won three golds.
New Zealand have three wooden spoons and a whole lot of sob stories to take home from their Olympic travels.
With a confident side preparing to face South Africa tomorrow night (NZT), that could be about to change.
"We spoke about it last night and said what have we got to lose?" said coach Mark Hager.
"What medals have we won? Nothing. We want to get to the medal rounds and give ourselves a chance to make history."
An early Cathryn Finlayson goal was all it took to kick-start the campaign and New Zealand displayed a combination of dash and doggedness to repel Australia.
The goal was not a thing of beauty - the ball fell into the path of Finlayson off a rebounded penalty corner effort - but it was a beautiful thing.
New Zealand's pace troubled Australia initially, but then they got narrow and dragged the Hockeyroos back into the match.
"We need to use around the outside a bit more. We kept trying to cut infield," pacy winger Anita Punt said. "I think it was just nerves and trying to do things that we don't usually do."
"Tell me about it," retorted Hager. "That wasn't the message, to go through the middle. We spoke about going outside, giving the ball early but for some reason we get tired and start to run the ball through the middle of the pitch. Against teams like Australia you can't do that. They're too talented."
What New Zealand did absolutely by the book was scramble well and contest every 50-50 ball like the match rested on it.
They also had an in-form Bianca Russell in goal. Twice she stopped Emily Smith at point-blank range, the second time seeming to take the wind out of the favourites' sails.
"It was a really good effort in defence," Punt said. "We haven't held a 1-0 lead from the start for a very long time so it was good."
The clock seemed to stall when it reached five, but New Zealand, with Clarissa Eshuis and Russell's reassuring presences, were not to be denied.
After Beijing, then NZOC secretary-general Barry Maister lambasted the performance of New Zealand's team sports and the women's hockey team were the worst. This side is almost unrecognisable from the 2008 version and should not pay for the sins of its predecessors, but you cannot ignore the fact this programme is in need of some Olympic redemption.
Australia was a tough introduction. Familiarity breeds not so much contempt but conspiracy, with the Hockeyroos accusing New Zealand of a spying raid during a recent four-nations series in Auckland.
New Zealand's coach Mark Hager, an Australian, laughed off the claims, but said it proved that his compatriots were concerned about the challenge they posed. He was probably right.
By Dylan Cleaver

Email

Dylan