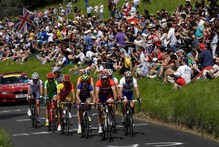 Great expectations equalled huge crowds, but in the end the men's road race delivered a bit of a flat tyre.
What should have been one of the blue-riband events of these Games turned into a 7km drag race between a 39-year-old former drugs cheat who should be past his best and Rigoberto Uran, a talented Colombian but hardly one of the rock stars of the sport.
Borat might have been celebrating Alexander Vinokourov's win long into the night, but apart from the Kazakhstani delegation, few could have been wholly satisfied with events on the streets of London and Surrey.
So determined were a number of teams to nullify the threat of Great Britain that they were prepared to sacrifice their own chances to make sure they didn't inadvertently help bring Mark Cavendish and his high-profile support crew back to the lead bunch.
Instead, the greatest drama came with Philippe Gilbert's brave but misguided attempt to break the race open with a little less than 60km to go; a Fabian Cancellara crash that might have harmed his chances in Wednesday's time trial and Vinokourov and Uran's final 7km dash.
There was New Zealand interest in the admirable performance of Jack Bauer (10th) and the unfortunate demise of Greg Henderson, who got a case of the runs at the worst possible time.
It was a miracle we even knew he was gone, so lacking was the standard of the outside broadcast.
The lack of crucial graphics, particularly the gaps between the lead bunch and the peloton, was appalling. It wasn't as if they didn't have a template to work from. All they had to do was watch the phenomenal coverage of the Tour de France and copy it. Half the time we didn't know who was in the lead bunch and it took the commentators an age to work out it was Cancellara - quite an important fact, you would have thought.
Still, the greatest sense of disappointment was the fact that the huge mass of humanity that turned up to cheer on the heroes never really got a chance to get excited.
This was meant to be British cycling's party - confirmation they are now the sport's real superpower. Instead, we got a demonstration that cycling is every bit a defensive sport as well as an attacking one.
"We did everything we could. The crowd was tremendous the whole way around, but the Aussies just raced negatively," Cavendish complained, somewhat bitterly, but also with some justification.
"We didn't expect any help. We rode the race we wanted to ride. Other teams were content that if they didn't win, we wouldn't win. We expected it."
It's up to Tour de France winner Bradley Wiggins on Wednesday to get the smiles back on Brit faces again.
By Dylan Cleaver

Email

Dylan