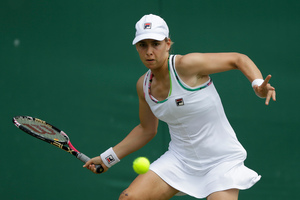 I'll be donning black and white but I guess it's still colourMarina ErakovicThe whites are gone and there's not as much shampoo, conditioner or hair straighteners in the locker room but Marina Erakovic feels like she's barely left Wimbledon this year.
The world No 46 was beaten in the second round a month ago at the All England Club but has returned after a couple of hard court outings to seek Olympic success.
"Things are different. It's a bit more simple this time around but with lots of volunteers. You go in, do your thing and get out.
"In Beijing you felt like they'd built this whole place in the middle of nowhere. Everything was spread out, it's not as accessible as here but tennis-wise it is easier because I know Wimbledon well.
"It feels like I haven't left. It's all very familiar. I played a couple of hard court tournaments in the meantime and Wimbledon plays like that. When the weather's nice here the balls bounce higher so getting used to the grass again has been easy."
Erakovic has had some travel difficulties.
"That's been the only hassle so far. You have to spend the whole day at Wimbledon because the travel situation doesn't really allow us to go back and forth. It feels like you're going to a job - you get stuck in traffic going there and back.
"But I want to be in the village; that's part of the Olympic experience."
Erakovic welcomes the move away from whites at Wimbledon as she prepares for her second Games.
"There's a lot of colour going on and that's nice, mixed with the pink embankments. I'll be donning black and white but I guess it's still colour."
Despite her efforts at diplomacy, the Olympics still rate as secondary in Erakovic's career-view.
"They're probably up with the Grand Slams but if it was a choice between Wimbledon or the Olympics, I'd go for Wimbledon. It's not to say Olympic gold wouldn't be incredible but Wimbledon is the pinnacle.
The draw was due out overnight. If Erakovic plays on Saturday rather than Sunday she won't go to the opening ceremony.
Victoria Azarenka is seeded No 1 for the women's singles.