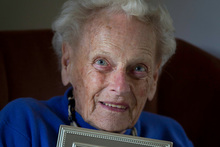 When Rona Coleman sits in her living room to watch the Olympic Games on television later this month she will be torn.
Of course, the 86-year-old will be cheering for New Zealand, her home, but the Aucklander will also be supporting her granddaughter Michelle, 18, who will don the Swedish colours of yellow and blue.
The teenager has been named in the five-strong 4 x 100m freestyle relay team to compete in the London 2012 Games.
Michelle earlier this year won gold at the Swedish Grand Prix event in the 100m backstroke and is a European Junior Swimming Championships medallist.
Her father, Mark Coleman, grew up in Auckland but married a Swedish woman and moved to the country 20 years ago.
Mrs Coleman, who has 13 grandchildren, said it was going to be hard to decide which country to support during the Games.
"A bit of both I suppose, but I will be supporting Michelle and Sweden in the swimming. I don't know any other Swedish Olympians so it will be New Zealand in the other events."
And this is not Mrs Coleman's first grandchild in the Olympics.
Michelle's cousin, Jacinta Coleman, competed in the cycling road race for New Zealand at the 2000 Sydney Olympic Games, placing 18th.
Mrs Coleman reckons it has nothing to do with her.
"I think it is something that is amazing. They have both worked real hard, I didn't help them," she said.
And Michelle might not be her last star grandchild, as her younger brother, Daniel, is also a top swimming prospect.
"I heard he has been doing well. I think he is a bit miffed at his sister's achievements," she said.
Michelle and her family made trips back to New Zealand to see family every four years, but visits have been less frequent since her swimming got serious.
"She seemed to enjoy seeing all the sights around the place. She thinks of us, all of her uncles, aunties and cousins in New Zealand."
Mrs Coleman just hopes she will be able to see her race on TV.
"I will have to go to someone's house to watch because I don't have Sky."
Michelle's first heat is scheduled on July 28, day four of the Games.
By Ben Parsons