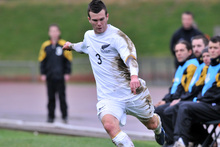 Ian Hogg has just finished his property degree but hopes he won't have to use it for "at least a decade".
After four years of frustration, Hogg hopes the Olympic Games will be the launching pad for his professional dream.
Alongside Ryan Nelsen, the Auckland City defender is the only survivor from the team that went to the Beijing Olympics four years ago.
Back then, he was one of the kids in the squad, and the 18-year-old impressed across three games. Since then, he has toiled in the ASB Premiership and O-League, as well as putting in some strong performances at the Fifa Club World Cup. There have been some professional trials, most recently in Sweden, but he has yet to make that vital breakthrough.
"In Beijing, I did okay but this time around, with all the experience I have gained through Auckland City, it is a much better opportunity," Hogg told the Herald on Sunday.
"I'm really hoping something comes from it."
He admits that every game feels an audition, trying to prove to himself, his team-mates, his coach and the men who matter that he has the right stuff.
"It is in the back of your mind," says Hogg. "I'd be lying if I said I wasn't going out there to try and get someone to sign me but I guess if the team does well, it is more recognition."
The most obvious destination for Hogg is the Phoenix, who have up to four spots on their roster for the 2012-13 A-League season.
Since 2007, Tony Lochhead has had a stranglehold on the left-sided defensive spot for club and country.
He is probably neither as good as that indicates, nor as bad as his detractors would believe. He is a tremendous athlete, a solid presence with buckets of experience.
But certainly from the evidence of the All Whites' US tour and the subsequent debacle in Honiara, Lochhead has his first serious competition in years.
"I think Ricki [Herbert] was pleased with my performances over there," says Hogg.
"Obviously Tony [Lochhead] is still there at the Phoenix but Ricki will be away at the Olympics with us so it is another opportunity to show him what I can do.
"Ricki said he will be watching me when I am at the Olympics, so I guess he might be thinking of bringing me in. I can't think about that too much, even though I would love the opportunity."
It can often be difficult to predict success on the football ladder; some players fail to adapt to the mental and physical demands of daily training and high-pressure games, while others thrive in the professional environment.
Hogg has shown a predilection for raising his game with each step up, something he continued with a spectacular goal on his All Whites debut.
"When players out of the ASB Premiership get a chance to go and play on that stage, you just hope that they can grab it and justify that selection and he certainly did that," says Oly-Whites coach Neil Emblen.
"Since he has come back, he looks more confident and has an air about him - he acts more like an All White now.
"Hopefully he can keep pushing Tony [Lochhead] and good performances in London will do that."
Hogg knows the score.
"My aim is to become a professional footballer and the NZFC doesn't provide that.
"It would change my life completely. It would help my chances of making future All Whites teams and also be a chance to show the New Zealand public what I can do in a professional environment."
Hogg had a reputation as a hothead but has become more settled over the past two years.
His pace is his greatest asset, as will be his ability to traverse the flanks. Technique remains the work-on.
There are always hard-luck stories around team selection and Greg Draper might be the one this time.
Despite scoring the goal that sealed the Olympic spot (his third in four qualifying matches), Wales-based Draper missed out on the 18-man squad.
"Greg has done well in Wales but I felt that Dakota [Lucas] is a bit more versatile," says Emblen.
"He can play wide right, wide left or up the middle. If we need someone as a holding striker, we have Shane Smeltz and Chris Wood to do that job."
Emblen confirms he will be the main man at the 2012 Olympics, despite Herbert's presence in London.
"I'm in charge of the team, the selections and the way we want to play," says the 41-year-old.
"Ricki is there for me whenever I need him and it is another set of experienced eyes. I couldn't ask more than that. I'll be bouncing things off him and [assistant coach] Chris Zorocich all the time.
"We'll be meeting Ricki before and after training but Chris and I will be in charge of the stuff on the grass."
By Michael Burgess

Email

Michael