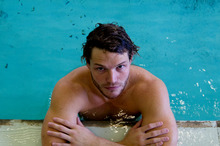 The old line about learning from your mistakes has a resonance for Glenn Snyders.
He is going to the London Olympic Games as one of New Zealand's brighter hopes to at least make an A final in the swish, sparkling Aquatics Centre at Olympic Park.
If Snyders, who is ranked No 6 in the world in the 100m breaststroke event, performs strongly, he'll probably reflect on the strides he's made out of the water since going through a traumatic time at the Beijing Olympics four years ago.
He was a bag of nerves in China. His 100m heats were on the first day of competition, as they will be in London. He was optimistic - and he missed the semifinals, which are for the top 16 qualifiers.
"I remember looking back, seeing I was 19th, and knowing that if I'd swum on personal best time I would have made the semifinals and the final, if I was consistent," he said.
"I was so angry with myself for doing that, that when it came to the 200m breaststroke I didn't care at all, and swam a 2s personal best and made the semifinals. From being 28th or something I was 16th and in the semifinals."
Snyders, 25, knows he's matured since then. His attitude has changed, his desire has sharpened. "I've come to realise a lot of things I didn't back then in terms of pressure. Instead of looking at it as just another swimming competition, I looked at it like the biggest thing on earth. Now it's just another competition, with extra added hype around it."
From around the time of the Commonwealth Games in Delhi two years ago, Snyders has worked with sports psychologist Tom Patrick. The benefits have been significant. Snyders had problems sleeping and switching off swimming.
"I found myself mentally drained, which led to being physically drained. Now I've got a few exercises. Tom's given me a few things to do here and there to take my mind off swimming."
Snyders is by a distance New Zealand's leading exponent of the most technical of the four strokes. He holds the national records at the non-Olympic 50m (27.06s), 100m (59.94s) and 200m (2min 10.85), and possibly has an old teacher in Warwickshire to thank for that.
His parents, Barry and Sue, moved from South Africa when their son was small, settled in England before arriving in Auckland in 1999. But it was at Milverton House in Nuneaton that Snyders started swimming. "A teacher said I had a natural breaststroke kick, just the movements of it. I was able to grasp them very quickly. Out of the four strokes I was just good at breaststroke."
Since Beijing, Snyders has travelled the globe to all the big events, most recently getting a bag of medals at the world university games in Shenzhen, China last August. All that adds up to a more rounded appreciation of what is required.
"I've realised I'm just as good as the top guys. All I need to do is focus on myself, believe in the training I've done, believe in my stroke, swim my race and not worry about anything."
The other key factor in Snyders' progress is head coach Mark Regan. Former head coach at the Australian Institute of Sport and of the Danish national team, Regan has a pile of Olympic, Commonwealth and world championship medals to his CV.
He is a no-nonsense sort who has been working with Snyders since just before the Commonwealth Games two years ago.
So what's it going to take to be jousting in the final at 8.07pm on July 29 (9.07am the following morning here)? "I have a fair idea that low 59s would win a medal. To get into the final you'd have to go under 1min."
Only five men have swum under 1min this year. Snyders sits next on the 1:00.04s he clocked last March at the national trials in Waitakere, although he has gone below 1min before. That said, the US trials are not until late June in Nebraska and are likely to adjust the ranking situation.
Snyders, a 50m silver medallist in Delhi in a dead-heat finish with Australian Brenton Rickard, fancies swimming in Rio de Janeiro in 2016 - "If I'm still swimming fast in four years time, why not keep going? And if I still love it, and I can't see why I won't." But first things first. He is off to California on May 23 for the Speedo grand challenge in Irvine. Then it's Santa Clara for the high-powered invitational meet. He returns home on June 6, then heads to Cairns with the New Zealand squad for a two-week camp and a stint at the Australian Institute of Sport.
There's another camp in Belgium in July before the squad head to London. Snyders likes that he'll be kept busy. He wants racing, relishes comparing himself to his rivals. Put that down to the thrill of the contest. And keep an eye out for him in London. The signs are encouraging.
By David Leggat

Email

David