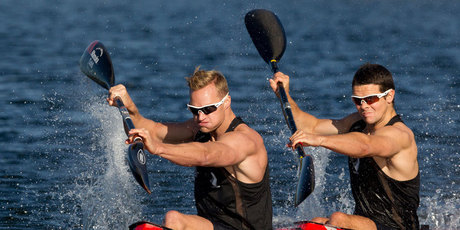 It doesn't rival the Lafortune clan of Belgium who competed in 17 Olympic Games between them, but the Fergusons of New Zealand are creating their own history.
Yesterday Steven was selected for his fourth Olympic Games to add to the five his father Ian went to. Ferguson senior, who is this country's most successful Olympian with four golds and a silver, will also go to his third as coach.
With the exception of Atlanta in 1996, a Ferguson has competed at every Olympics since 1976. Much like summer holidays, it's what they do every four years.
Steven first competed as a swimmer in Sydney in 2000 but switched to a canoe for 2004 and, although he hasn't ruled out trying to match his father's record in Rio de Janeiro in 2016, will reassess after the London Games. He turns 32 on Tuesday (May 8) and has other considerations.
"I am going to have a break from kayaking after the Olympics," he said. "I'm in the world surf lifesaving squad which is competing in November. That will keep me fit and doing stuff. In a year or two I will see how things are going and whether my body is holding up and whether I can do another Olympics.
"If I feel like I have that mental energies to put into another campaign, I might but it really depends on how things go at this Olympics. A lot of things ride on that. I have a wife and a little kid and I want to make sure I spend some time with them. I need some balance in my life."
He has not come close to his father's exploits but is a successful Olympian in his own right, having competed in three finals including both the K1 500m and K2 1000m in Beijing in 2008, and thinks his name has helped his career.
"There are always negatives that come with it but I wouldn't have it any other way," he said. "I love being a Ferguson and everything that comes with it. Dad did an amazing job in everything he did and now I'm carrying on that legacy.
"I'm trying to achieve my own goals. For me, it's really what I love to do. It's not about anything else. I'm doing what I love, and that's competing at the highest level."
Steven paddled with Ben Fouhy in 2004 and then Mike Walker at Beijing but will team up with promising Gisborne paddler Darryl Fitzgerald this time around.
The pair believe they have the potential to medal in the K2 1000m and point to the fact they won the B final at last year's world championships in a time just 0.2 seconds off the pace of the crew who won the world title just five minutes later.
It's a bit overwhelming for Fitzgerald, not only because he will be going to his first Olympics but also because of the Ferguson factor. The 21-year-old has learned to consider himself an equal in the boat and, sitting at the back, even gets to tell Steven what to do from time to time.
"For me it's been a fast path to where I am," he said. "A few years ago I remember thinking Steven was this unbelievable performer and I shouldn't be talking to him. Now we are friends and you can talk on a level playing field. It's an awesome feeling. He's a good person to have with me. With me being so young, he can teach me so much and I learn a lot off him.
"I have some enormous support and a lot of experience around me. I can build off that and hope it will be a calming influence over me."

- APNZ