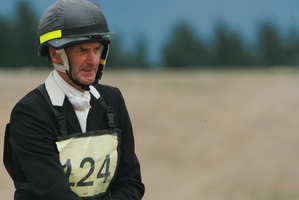 Mark Todd's campaign for a seventh Olympic Games has received a setback with the withdrawal of his top horse.
The two time Olympic gold medallist has had to withdraw NZB Land Vision from contention after the recurrence of an old tendon injury.
The winner of last year's Badminton Horse Trials will be stod down from training and competition for at least three months to allow a complete recovery.
Todd (56) accepted the veterinary advice but said he was disappointed, especially as he rates Land Vision highly.
"He proved himself at Badminton last year as one of the best four star horses in the world and I thought if I got him to the Olympics fit and sound he would have had a good chance at winning a medal,'' said Todd.
"It is very disappointing for me, my sponsors New Zealand Bloodstock and the New Zealand team.''
Equestrian Sports New Zealand high performance director Sarah Harris said that everyone in the team was disappointed at Land Vision's withdrawal.
"Tendon injuries are not unusual for eventing horses and rest is the only option in this case,'' said Harris "Mark remains eligible for selection for London and I fully expect to see him as part of the Kiwi team in July.''
The long term prognosis for Land Vision is good given his relatively young age of 11, and Todd remains available for selection for a record seventh Olympic Games with other horses in his stable including the 10-year-old NZB Campino.
"All is far from lost,'' he said. ``Campino is very good in all phases too and while he is not quite as experienced as Land Vision he can also be a competitive (podium) prospect.''
The cancellation of this weekend's Badminton Horse Trials, due to local flooding, has thrown a real spanner in the works for a number of international riders and teams.
It hasn't helped Todd either, who still needs to achieve the Olympic qualification standard for another star of his stable, NZB Grass Valley, on whom he finished 11th individual at the 2010 World Championships, and contributed to a team bronze medal.
Grass Valley will now head to the famous three star event at Saumur in France while Campino will compete at Chatsworth (UK) this month and Major Milestone to Tattersalls in Ireland, followed by Luhmuhlen in Germany - the latter the only top level (four star) competition on the eventing calendar before the Olympics begins on July 28.
Todd remains confident that the Kiwis have the horse power to do well at the Olympics. "With some very experienced riders, we've certainly still got the basis of a very strong team for London.''
- APNZ