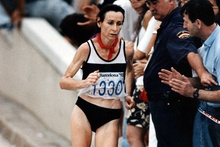 WIth more than 90 turns, a longest straight of less than 800m and narrow roadways, the London Olympic marathon shapes as a 42.195km game of hide and seek.
Let a competitor slip away around a corner near St Paul's Cathedral, make a dash at Westminster or seize on hesitation at the Tower of London and Olympic medal dreams will crumble.
Strategy is to the fore. There are unlikely to be record times at London. In addition to the twisty streets, the course does not have the downhill profile of the world's fastest marathon routes and the surfaces can vary from smooth tarmac to tricky cobblestones. The race will also start late morning because of the demands of Japanese and United States broadcasters. Extra heat means extra work for the stopwatches.
New Zealander Kim Smith will face those circumstances on August 5 on The Mall start line as one of the country's lower profile Games medal prospects. The 30-year-old's famous modesty means few probably know she has been in the top bracket of marathon runners in the world since moving from the track after the 2009 world championships. She has finished fifth twice in the New York marathon (2010, 2011) and eighth at London (2010).
Her London foray - on a substantially different course to the Olympics - was on marathon debut two years ago. She set the national record of 2h 25m 21s.
Smith acknowledges the Olympic race is as much about tactics as running.
"It is a substantially different course to the city marathon. There are so many challenging curves which will slow people down but you can't see around any of those corners either, which could enable breakaways."
There is no talk of a repeat of her tactics at Boston last April when she shot out to a 30 second lead at the halfway mark before a right calf injury saw her exit the race around 30km.
Smith's plan was logical but perilous - get out to a lead so you're not boxed in or outkicked by the perennially strong African contingent in the last 10km.
Lorraine Moller, New Zealand's only women's Olympic marathon medallist with bronze at Barcelona in 1992, says Smith does not need to repeat those risks.
"I don't think you can do what she did in Boston at the Olympics. She needs to be more cunning and calculated. It's a quality field and it'd be difficult to slip one by them, and shoot away.
"Kim can match it with the best of them but regardless of talent, fitness and grit you need a confidence and a strategy going into the Olympics. You need to sustain an incredible belief in yourself. Kim has good prospects; she's not a novice. This is a window of opportunity in the life of an athlete who has been around long enough and has a rare ability."
Colorado-based Moller ran in four Olympic marathons during an international athletics career that spanned the better part of three decades. She won the women's world championship marathon in London in 1980. The race was the test case to see whether there was enough interest in the women's marathon to justify it joining the Olympic programme at Los Angeles. "Any London course - especially the one used for the Olympics - will have a variety of surfaces, a lot of turns and you could easily lose sight of competitors. The best strategy would be to stay in a tightly-knitted front bunch where possible."
Potential heat is another factor to consider. In her 2007 autobiography On The Wings Of Mercury, Moller described the day she earned bronze in Barcelona as: "The road stretching between me and my dream is a steamy tar-pit of reptilian breath, threatening to suck the water out of my skin and desiccate my precious hope for gold". The road did that but bronze wasn't a bad return.
"It took a lot of calculating, a lot more mental strategy than before with specific preparation for that course," Moller says.
"It was the hottest Olympics to date at 96 degrees Fahrenheit [36 Celsius]. It was important to be on the start line knowing you can handle such heat with confidence. If you train like that for long periods beforehand your body will adjust. You don't want your standard of fitness tarnished by only acclimatising short term and losing conditioning. You could get cooked on the course."
Smith is conscious of acclimatising to potential heat. That includes a matter which can easily be overlooked - best practice drink station etiquette.
"I'm using my home in Providence [Rhode Island] as a base. It is generally a lot hotter and humid than London in summer which will be good for acclimatisation. I have been building up the training miles over a few weeks. I have a half marathon in six weeks, then a Boston 10km race about six weeks out.
"I'm also paying attention to my race drinking which is one of the transitions you have to make from the track. The later start [in London] requires better hydration. It is hard to suck a drink down when running fast; you've got to get your stomach used to it. I tend to find I hold onto bottles too long. Drinks stations also tend to be messy; you've got to watch yourself. Athletes knock over drinks in the rush."
Smith has her drinks labelled and distributed by the race organisers onto the course. A similar scenario is expected at the Olympics. She doesn't believe they could be tainted or spiked.
"I've always had complete trust in the security around the drinks stations. There is strict supervision from the moment you hand over the drinks before the start."
Smith has a short break after the Olympics before competing in another New York marathon. It is a commitment she wants to honour in aid of New York Road Runners who organise the race and have offered her plenty of support in the development of her running career.