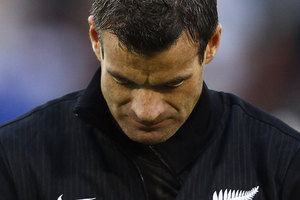 The New Zealand Olympic Committee has marked the 100 day milestone to the Olympic Games with the naming of four triathletes to the New Zealand Olympic Team and the confirmation that both men's and women's football teams will be assured a place at London.
The athletes and teams named today add weight to an already talented Olympic team set to perform with distinction and earn New Zealand's 100th Olympic medal this year.
Andrea Hewitt who finished this weekend's ITU World Cup in Sydney with a bronze medal headed the women's Triathlon team named today and will be joined in London by number two ranked New Zealander Kate McIlroy. The men's Triathlon team includes Beijing Olympian Kris Gemmel and double Olympic medallist Bevan Docherty (Athens silver, Beijing bronze).
The New Zealand Olympic Committee also accepted nominations for Nicky Samuels and Ryan Sissons pending confirmation of spots by the ITU in May.
Football's Ryan Nelsen and Rebecca Smith were named as team captains with 18-player squad announcements to be made by June 15.
New Zealand Olympic Committee Secretary General and selector Kereyn Smith said the athletes and teams named today would make their mark in London.
"We've got a real reputation in both men's and women's triathlon and they have made their mark internationally. Andrea is a real medal contender. I'm delighted to welcome them to our proud Olympic team."
Smith added the two football teams were expected to be very competitive and perform with distinction at London. "Based on the significantly enhanced programme for the Football Ferns and their improving ranking internationally, as well as the performance of the All Whites at the 2012 World Cup; the New Zealand Olympic Committee and Football NZ are looking to both teams making a mark on the Olympic competition," she said.
The New Zealand Olympic Committee also confirmed the selection of 50km race walker Quentin Rew who met the IAAF A standard on March 31, just missing the initial athletics team selection.
High Performance Sport New Zealand chief executive Alex Baumann also commented on today's announcements. He says that with 100 days to go until the Olympic Games begin, he's delighted to see the athletes from two more sports selected to the New Zealand team and wants to wish all our athletes well in London.
New Zealand has a recent Olympic history in triathlon and football. Triathlon made its first appearance on the Olympic programme in 2000 at Sydney. Our first triathlon medals were won in Athens where Hamish Carter and Bevan Docherty came home for gold and silver medals. Beijing saw a team of six athletes and a bronze medal from Bevan Docherty.
New Zealand first sent football teams to the Olympic Games in 2008. The women's team finished tenth and the men finished 14th. The Men's Olympic Football Tournament is contested by squads comprised of U-23 players with three overage players per squad.
The draw for both football tournaments will be made in Coventry next Tuesday night (NZT).
The 100 Days milestone was also marked with a street party and celebrity running race in Wellington hosted by the UK High Commission and the naming of Stand Tall by Sam RB as the official song of the New Zealand team at London 2012.
- Herald Online