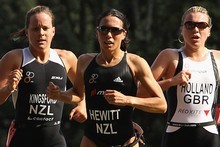 Triathlon New Zealand bosses are disappointed but far from fretting over Olympic Games prospects next year.
There had been hopes of at least one other New Zealander besides the impressive Andrea Hewitt clinching a spot at the London Olympics out of the World Championship series event over the Games course last weekend.
World No 2 Hewitt finished sixth, but double Olympic medallist Bevan Docherty was 15th in the men's race, and needed to be inside the top 10 to win a Games spot. His next chance comes in Beijing on September 10-11 in the championship grand final, but he must make the top eight on a course which is expected to suit his strengths more than London.
As things stand, New Zealand's women sit third on the teams classification and the men seventh. If they finish in the top eight when the qualifying period ends next year, New Zealand will be entitled to three places on the London startline in both categories. However, securing places by performance rather than under the discretionary system is the preferred route, and offers a more clearcut method.
The last qualifying chance will come at Sydney in April, but all this is taking place against a backdrop of criticism of TNZ's funding policy.
Essentially the critics' argument goes that too much money was spent on rising talent and TNZ staff rather than putting it solely into the high end athletes and their coaches. TNZ was given $1.585 million by Sparc towards its Olympic campaign this year.
Chief executive Craig Waugh insists there won't be any changes in the policy until London, save an extreme circumstance. In any case, for Beijing next month, TNZ will have four staff there, the numbers dictated by availability of funds.
"We're trying to do the best we can with what we've got," Waugh said yesterday. "I'm hearing very polarised views, criticism about the programme and some very positive things.
"Somewhere in the middle is where we'll need to land in due course but it's not about shaking it up for London because that train has left the station and it would be more destructive to do that."
Waugh, who took on the job on July 1, pointed out the current model to prepare for the Olympics was put together by the sport's best brains.
"The points these people [critics] make, some are valid and fair, but when you're getting funding from Sparc there are rules and criteria you have to adhere to.
"Some critics might not fully appreciate that because they operate on passion."
Waugh said there had to be a balance in funding distribution, pointing out some of the younger athletes, whose time is more likely to come at Glasgow in the 2014 Commonwealth Games, or the Rio de Janeiro Olympics in 2016, are getting "a bite of the carrot without giving them a full carrot".
Athletes are being used for the common goal of getting as many competitors to the Olympics as possible.
Some are contesting events with the aim of finishing ahead of athletes from other countries to keep New Zealand ahead of their rivals in the team standings, such as Spain and the United States.
That's the plan at Tiszaujvaros, Hungary in the next World Cup round tomorrow night.
"I know there's criticism that we've got guys up there that we're wasting money on. It's not. It's growing these guys, they're accumulating very important team points and if they're not there then we won't have three [athletes in London]," Waugh said.
He was delighted by Hewitt's performance. Her form has been consistently strong this year, and has superseded Docherty's as the country's premier triathlete.
By David Leggat

Email

David