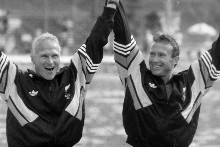 Legal forces are now massing in the vexed split in New Zealand canoeing - with the battle surrounding axed coaches and Olympic heroes, Paul MacDonald and Ian Ferguson, likely to head to court.
Alan Thompson, like Ferguson and MacDonald a much-decorated Olympic medallist who resigned from the board of Canoe Racing New Zealand in support of the axed coaches, says legal papers could be served on CRNZ this week. One concerns selection issues; the other an employment action.
Ferguson and MacDonald have not had their contracts renewed by CRNZ and spoke out earlier this month against what they considered was a slow campaign to oust the pair by CRNZ's Sparc-appointed executive. On one side of the divide is Ferguson, MacDonald and Thompson; on the other CEO Paula Kearns, high performance manager Wayne Maher and new coach Gordon Walker.
In the backdrop is the Ben Fouhy saga. He had a highly public spat with Ferguson, leading Fouhy to walk away from the sport before striking a deal with Sparc and CRNZ to compete at the world championships this year - but only after training apart from Ferguson and MacDonald and the rest of the canoeing team.
"We are asking to go to arbitration on the selection policy [the Ben Fouhy principle; he has been permitted to go to Europe next year without racing in trials]," said Thompson.
"If they don't engage with us then we will most likely take the matter to the Sports Disputes Tribunal - and our advice is that we can win hands down."
Fouhy may not be the only paddler to be accorded the advantage of that selection policy. Thompson said he had heard there were moves for Erin Taylor to do the same thing.
"We just do not believe that is fair; it's not sport," said Thompson. "There are other paddlers there who deserve the chance to contest those spots and they are not getting it. There's paddlers like Lisa Carrington, who is pretty much top dog right now."
MacDonald declined to speak about a possible employment action that might be taken against CRNZ but Thompson said legal advice again indicated that MacDonald had a firm case.
"I'd say that we have a canoeing body that doesn't know much about kayaking, it doesn't know much about selection and now it seems they don't know much about employment law either.
"Macka's options could be to get his job back or compensation or possibly both."
Meanwhile, Thompson said he, Ferguson and MacDonald knew that CRNZ had been trying to pressure paddlers into putting into writing reasons why they did not want to be coached by Ferguson and/or MacDonald - even if that was not true.
"I am not sure how many of them have signed up but we are not worrying too much about that because it has been discredited, really.
"We have heard they are subtly putting the pressure on by mentioning funding and hinting it might be withdrawn if the athletes don't sign - but never actually making the direct threat."
The Herald on Sunday on October 10 ran a copy of an email from CRNZ high performance manager Wayne Maher which stated in part: "Can you please write something to the effect of: Why you no longer want to be coached by Ian and/or Paul and/or Andras - reasons etc. What you are prepared to work with in the short-term - e.g. We are in behind the HP [high performance programme] ... Plus anything else you think - maybe send it around as a chain letter and get everyone to contribute their bit?"
Thompson said: "Whatever the athletes say was gained under that kind of duress. We don't want to play that kind of game by placing the athletes in the middle.
"We have all been careful not to play those kind of cards - because it doesn't do the athletes or the sport any good.
"At the end of the day, that's our concern. We all think the sport could be committing suicide with the way it is heading and that it could all be over after the next Olympics. We want to stop that from happening."
The Herald on Sunday has received confirmation from parents and friends of national paddlers who also say that subtle, but significant, pressure has been applied to the athletes to get them to back CRNZ against Ferguson and MacDonald.
No one wants to go on the record because they fear that speaking up would affect their athlete's chance of funding and/or advancement.
"That's what we are hearing," said Thompson. "No one is prepared to say anything against anything because they are worried the spotlight will go on them as well."
By Paul Lewis

Email

Paul