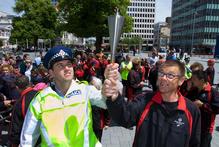 Police had to work to keep pace with Special Olympics athletes yesterday as they took to the streets to showcase their national games next month.
The officers joined the athletes in cities throughout the country for the Law Enforcement Torch Run in support of the Special Olympics.
Torches will travel from the north and south to meet in Palmerston North, where the Special Olympics New Zealand National Summer Games will be held from December 2, involving more than 1000 athletes in 10 sports.
Police Commissioner Howard Broad will light the Special Olympics flame at Manawatu Arena to signal the start of the national games.
The relationship between police and the Special Olympics began in 1981 when the police chief in Wichita, Kansas, Richard LaMunyon, saw an urgent need to raise money for and increase awareness of Special Olympics. Mr Broad said police were pleased to play a part in New Zealand.
"These games are a highlight of the year for Special Olympics athletes, their families and friends. Our participation in ... the games fits with our desire to work in and alongside the community."
By Jarrod Booker

Email

Jarrod