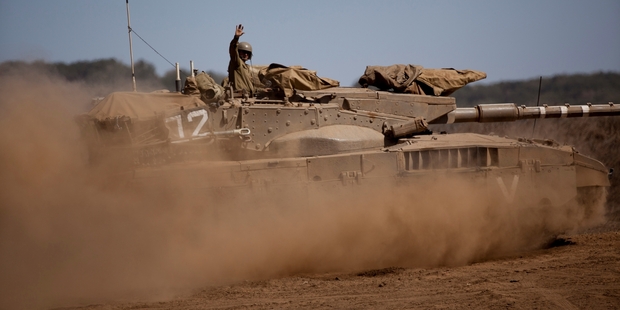 A tweet that appeared to suggest Israel had attacked Syria sent US oil prices soaring yesterday - until traders realised the post referred to the 40th anniversary of the Yom Kippur war.
Richard Hale, of analysts Hale and Twomey, said the jump was likely to have minimal impact on New Zealand oil prices.
At mid-morning, oil was trading near its Thursday closing price of US$101.61 a barrel before suddenly vaulting higher, soon breaching US$103.
The rise roughly coincided with a tweet from an Israeli defence official that on a quick glance suggested a dramatic escalation in Israel's tensions with Syria.
"Israel Air Force bombards airports in Syria to prevent Soviet weapons reaching Syrian Army," read the body of the tweet, which came from the Official Israel Defence Forces (@IDFSpokesperson).
As the tweet was distributed electronically, many users omitted the first part of the comment, #YomKippur73, which made it clear the events referred to occurred 40 years ago and were being commemorated on the anniversary of a critical development in the conflict.
Traders yesterday were also reacting to news of progress on a deal in Washington to avert a debt default.
That said, oil market participants said the misunderstanding over the Israeli tweet played a role in oil's initial rally yesterday. Oil eventually closed the session at US$103.01 a barrel, up US$1.40, after news on Washington negotiations and rising Libyan tensions propelled the commodity.
"There was probably some buying based on that," said Andy Lebow, a senior vice-president of energy derivatives at Jefferies Bache.
Lebow was forwarded the tweet by a colleague before going directly to the online service to check out the "news".
"It might not be a human being," Lebow said of the trades. "It might be a computer that's maybe programmed with the words Syria and Israel."
"There was confusion on that tweet and it got bandied about as a new attack," said John Kilduff, founding partner of hedge fund Again Capital.
Kilduff first saw the tweet, without the hashtag, copied onto an online forum for energy traders and brokers. The market's reaction reminded him of an incident this year when equity markets briefly tanked on a bogus tweet that the White House had been attacked.