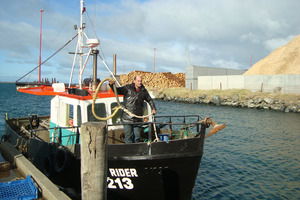 The sole survivor of the Easy Rider fishing boat tragedy that claimed the lives of eight people in Foveaux Strait pleaded with a judge to be merciful during a company owner's sentencing today.
Bluff woman Gloria Davis, who was found partly responsible for the boat's sinking two years ago, was sentenced to 350 hours' community work and fined $3000.
Her company, AZ1 Enterprises, which owned the commercial fishing vessel, was fined more than $200,000, even though Judge John Strettell acknowledged the company "may be no more than a worthless shell" and the fines may never be paid.
Davis' husband Rewai Karetai, 47, was the unqualified and inexperienced skipper of Easy Rider when it was swamped by a huge wave just after midnight on March 15, 2012 while transporting muttonbirders and two crew members to the Titi Islands, near Stewart Island.
Mr Karetai and seven others drowned in what was New Zealand's worst maritime disaster since the foundering of the Wahine.
Crewman Dallas Reedy was the only survivor.
Maritime New Zealand laid five charges against Davis and identical charges against AZ1 Enterprises.
Following a defended hearing in Invercargill in January, Judge Strettell found Davis and the company each guilty on three charges.
In an emotionally-charged sentencing at the Invercargill District Court today, Mr Reedy and relatives of those who died called for the court to be merciful, saying they did not blame Davis.
Judge Strettell said while Mr Karetai had been the person who decided to go to sea, Davis, as the person who administered the company and the person listed as the boat's owner, was also culpable.
On the main charge of permitting Easy Rider to be operated in a manner causing unnecessary danger or risk to those on board he sentenced her to 350 hours' community work -- which he said he hoped would be carried out for a community organisation in Bluff.
On that charge AZ1 was fined $82,000.
Davis and AZ1 were both convicted and discharged on the charge of operating Easy Rider knowing Mr Karetai did not hold a skipper's certificate.
On the charge of participating in the failure of AZ1 to take all practicable steps to ensure no contractors or subcontractors were harmed while working on Easy Rider, Davis was fined $3000, to be paid at $20 a week, and AZ1 was fined $122,000.
After the judgement Mr Reedy and several others hugged a tearful Davis.
Outside the court, Mr Reedy said the sentence was "fair and just" and he thought the judge had done a good job.
Maritime New Zealand director Keith Manch said the decision to prosecute Ms Davis, whose partner Rewai Karetai was skipper of the Easy Rider and one of those who died in incident, was taken only after careful consideration.
"Our sympathies are with all those who lost loved ones as a result of the Easy Rider sinking. We take no joy from these sentences ? we are well aware of the loss that Ms Davis herself has suffered. But eight people died when the Easy Rider sank and there are important lessons that must be heeded so that this type of incident does not happen again," he said.
"We believe this prosecution and these sentences highlight the very serious responsibilities held by those charged with ensuring fishing operations are safe. We hope publicity about this case will help prevent something like this happening again."
As director, Ms Davis was responsible for the safe management of the vessel and ensuring all those using the vessel were adequately qualified.