The three soldiers who were killed in a bombing in Afghanistan on the weekend returned home today in an emotional ceremony in Christchurch. Corporal Luke Tamatea, 31, Lance Corporal Jacinda Baker, 26, and Private Richard Harris, 21, died instantly when a 20kg roadside improvised explosive device destroyed their Humvee in Afghanistan's northeast Bamiyan Province on Sunday.
Latest NZH Video
Jacinda Ardern speaks at the 'Let's Talk to Labour' youth event.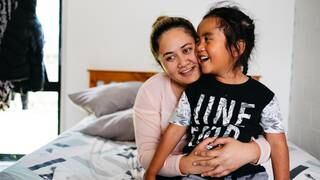 19 Aug, 2017 3:54pm
2 minutes to read
Exclusive: Compelling documentary challenges stereotypes around young mothers.
Protesters marching on Dunedin Hospital have forced Prime Minister Bill English and his entourage out a side door this afternoon. Source: ODT