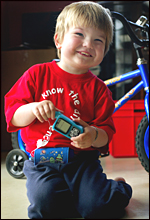 Life just got better for Auckland youngster Ryan Boyd, thanks to a medical device the size of a credit card.
Three-year-old Ryan is thought to be the youngest type 1 diabetes patient in New Zealand to be fitted with an insulin pump.
By giving him just the right amount of insulin, the pump provides better control of his blood-sugar levels than insulin injections.
High blood-sugar can lead to weakness and even coma and death; low blood-sugar can cause confusion, coma and seizures.
When Ryan's levels are high, he feels miserable, cries and lacks energy. But since the pump was fitted last week at the Starship children's hospital, Ryan, from Devonport, has shown the kind of energy expected of a healthy boy.
"He's like the Eveready bunny. He just keeps going and going and going," said his mother, Nicki Boyd. "It's amazing seeing the difference in him. It's going to change our lives."
Ryan's blood-sugar levels used to swing between high and low.
"It's difficult with a toddler," said his mother. "You can't explain to them, 'You need to eat now'. A two-year-old doesn't really get that. It has been hard."
Before the pump, Ryan needed three to six insulin injections a day.
The pump continuously trickles insulin into Ryan. The device, just 1cm thick and attached to a belt, can also be made to deliver the extra doses needed at meal times. His parents still have to do regular finger-prick tests of his blood-sugar level.
Apart from the immediate risks, high blood-sugar levels are linked to longer-term complications, including heart disease, strokes, blindness and kidney failure.
Ryan's Starship specialist, Dr Craig Jefferies, said Ryan was probably the youngest patient in New Zealand to have an insulin pump.
"There's a suggestion we should be using them a lot more in kids his age. If we can teach him how to use the pump, he will be very well protected from all the long-term risks of diabetes."
Government money paid for only two Auckland children a year to receive pumps, but several more were fitted through fundraising and parents paying.
They cost about $7500 each, and the tubes and other materials around $2500 a year.
Donors and Ryan's family paid for his pump to avoid a likely 10-year wait for Government funding, but the state pays for some consumables.
By MARTIN JOHNSTON