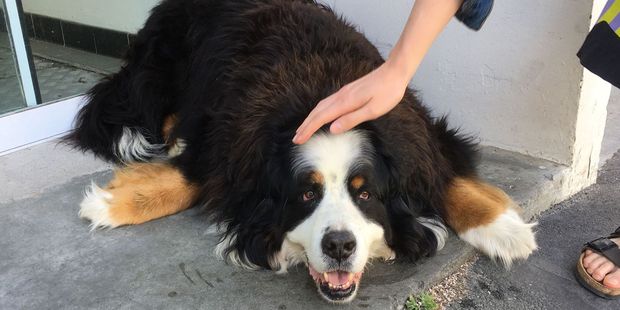 Beloved Wellington icon Bernie the bernese has died, prompting an outpouring of tributes on social media.
Bernie, the face of Bernie's on the Bay cafe near the Freyberg Pool on Oriental Parade, was a common sight for those out and about in the area.
He died on Tuesday night after a short illness, cafe owner Nick Ryan said.
"We had our vet come around last night. It was a very peaceful way for him to go, surrounded by myself and my partner," Ryan said.
It is believed Bernie had developed a growth on his lung, a common problem for bernese mountain dogs.
Saddened to hear the news this morning that Bernie, Oriental Parade's favourite resident has crossed the Rainbow Bridge. #ripbernie pic.twitter.com/Z0ThisUrEG

— Justin Lester (@justin_lester) April 18, 2017
Bernie was nearly 11 and had led a healthy life. Median life expectancy for his breed is 6.
The famous shop dog made a name for himself in Wellington, and had even featured in a book on shop dogs. Bernie had a "pretty amazing life".
"He was definitely, he's a Wellington icon, and icon of Oriental Parade . . . he was well loved, very loved."
Ryan had not realised how loved Bernie was until he saw numerous comments of support and condolences on social media.
"There seems to be a lot of comments and things come through on Facebook and also, you know, photos and things like that."
Both Ryan and his partner were "astonished" by the response, and thought it was "a very nice send off".
"It's a real shame to let him go, but just the timing, we just felt that he wasn't enjoying life anymore, so unfortunately it's just one of those things you do for your loved ones. You have to make that call."
Ryan is having people send in their photos of Bernie and will have a graphic designer make up a collage of photos to put up in the cafe windows as a memorial.
Mayor Justin Lester tweeted about Bernie's death, saying he was sad to hear that "Oriental Parade's favourite resident has crossed the Rainbow Bridge".
Nicola Keen replied to Lester's tweet, sharing her "all time favourite" photo of Bernie, sitting in a car.
@justin_lester @emtvnews Here's my all time fave pic of Bernie from 2013 pic.twitter.com/iFnLIzyFH3

— Nicola Kean (@nkean) April 18, 2017
Te Kawa Robb also tweeted a tribute to Bernie, calling him a "true Wellington icon" who would be missed by many.
Deeply saddened that Bernie, a true Wellington icon, has passed away. He'll be missed by many in @Wellington_NZ @WgtnCC @justin_lester pic.twitter.com/2RkxCx9qWS

— Te Kawa Robb (@TKRobb) April 18, 2017
Others shared messages of love and photos of Bernie on the cafe's Facebook page.
"I hope you are welcoming all the other fur babies in heaven and walking free of pain over the rainbow," Karina Lagreze said.
"It was always a good morning if we saw Bernie while driving to work," posted Clare O'Connor. "Rest in peace, Bernie. Thanks for all the smiles."