Until last week it was the main route for tourists and farmers, but now the long ribbon of State Highway 1 that winds along the coastline north of Kaikoura is deserted.
The force of a magnitude 7.8 earthquake last Monday was enough to raise entire sections of seabed and to send hillsides tumbling across the highway.
People living along the route are realising it could take months or even years for the debris to be cleared.
For farmers in the town of Kekerengu, midway between Kaikoura and Blenheim, it has suddenly isolated them from the south and added cost and time for them to send stock on a circuitous route for slaughter.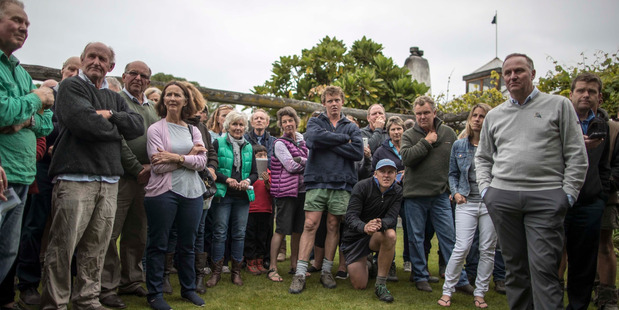 But farmer James Moore can see an upside, too. On Thursday he was able to move about 50 cattle across the highway to another paddock without calling out authorities.
"It's great for all the locals living down there by the highway. I was talking to one person and they were like, 'Oh it's so peaceful and quiet, sleeping at night and not getting woken up by the train,'" Moore said. "It's the way it used to be."
When Prime Minister John Key visited the town on Thursday as part of a helicopter tour of quake-affected areas, many people urged him to act quickly to get the highway cleared.
Just get some bulldozers out there and push the debris into the ocean, several said. Don't muck about with resource consent or trucking the earth away.
But Key said they needed to be realistic.
"If you go from Kaikoura north, that road is a complete and utter mess," Key told a crowd of several dozen locals. "Like, it is way worse than anything I've seen. So just to get a bit of perspective, the whole mountain has moved in a number of places. And so the road, which used to go round the coast, looks like it's going into a mountain."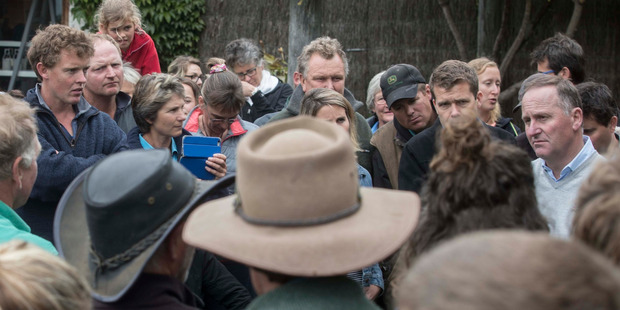 In Kaikoura to the south, those operating the whale-watching trips that are popular with tourists are facing another problem - their boats can only get out to sea for a few hours each day during high tide because of how much the seabed has risen. What once was ocean is now exposed rock.
Kauahi Ngapora, the general manager of Whale Watch Kaikoura, said options included dredging the marina or building a temporary causeway out to deeper water.
He said the high tide now reaches to where the low tide once did and that low tides are like nothing he's ever seen before. He told Key he'd been out to sea since the quake and seen lots of whales.
"So the marine life is still plentiful," Ngapora said. "But that window of three hours is just not enough. I mean, a tour is 2½ hours."
Key said he was encouraged by some of the progress he'd seen in Kaikoura since his last visit about a week ago, including roads being cleared and slips removed. He said people seemed in good spirits, but the enormity of what they faced was sinking in.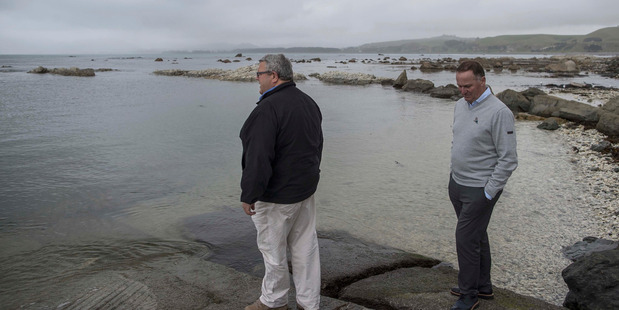 "Take the paua divers, they're talking about potentially having five or six years where it's quite a reduced amount of activity," Key said.
In the town of Waiau, there was evidence of the quake's destructive force. A community pool had cracked open and lost all its water, while the changing rooms had collapsed.
Locals have started an online Givealittle page and raised about $27,000 for a new pool.
But they have a long way to go, with a replacement expected to cost about $500,000.
Many people were happy that Key showed up, his presence seeming to signal that the Government was paying attention to the problems the quake left behind. For some, it became quite emotional.
"I'm just honoured to meet John. Am I allowed to call him that?" said Helen Beattie, describing how she'd embraced the Prime Minister. "I thought, 'Wonder if I can get a hug.' And I did."