A perfect storm causing "thunderstorm asthma", which led to the deaths of at least two people in Melbourne, is possible but unlikely in New Zealand, a weather analyst says.
Thunderstorm asthma is a rare spring event that happens when a thunderstorm, sudden change in humidity, a northerly wind change and high pollen count are combined. This perfect storm causes pollen "packages" to be dispersed.
Melbourne's hospitals had their busiest ever night on Monday as hundreds suffered from thunderstorm asthma attacks.
Read more:
• Family of 'thunderstorm asthma' victim devastated: 'She'd do anything for anyone'
It is believed at least two people died. One was 20-year-old Hope Carnevali, who died on the front lawn of her home and could not be revived, Nine News reported.
WeatherWatch head analyst Philip Duncan said Kiwis were unlikely to be struck with thunderstorm asthma.
"Storms are usually much more intense in Australia so there's more potential, but in the right conditions, it could happen here.
"Thunderstorms have an amazing ability to pick things up. They're like vacuum cleaners but they don't have a bag. They suck things up but then drop them off."
Many Kiwis suffer from hayfever as a result of pollen being blown around in westerly spring winds.
Melbourne had a huge expanse of grasses around the city and storms were relatively common there.
However, Duncan said Melbourne's storm on Monday was a "freak event".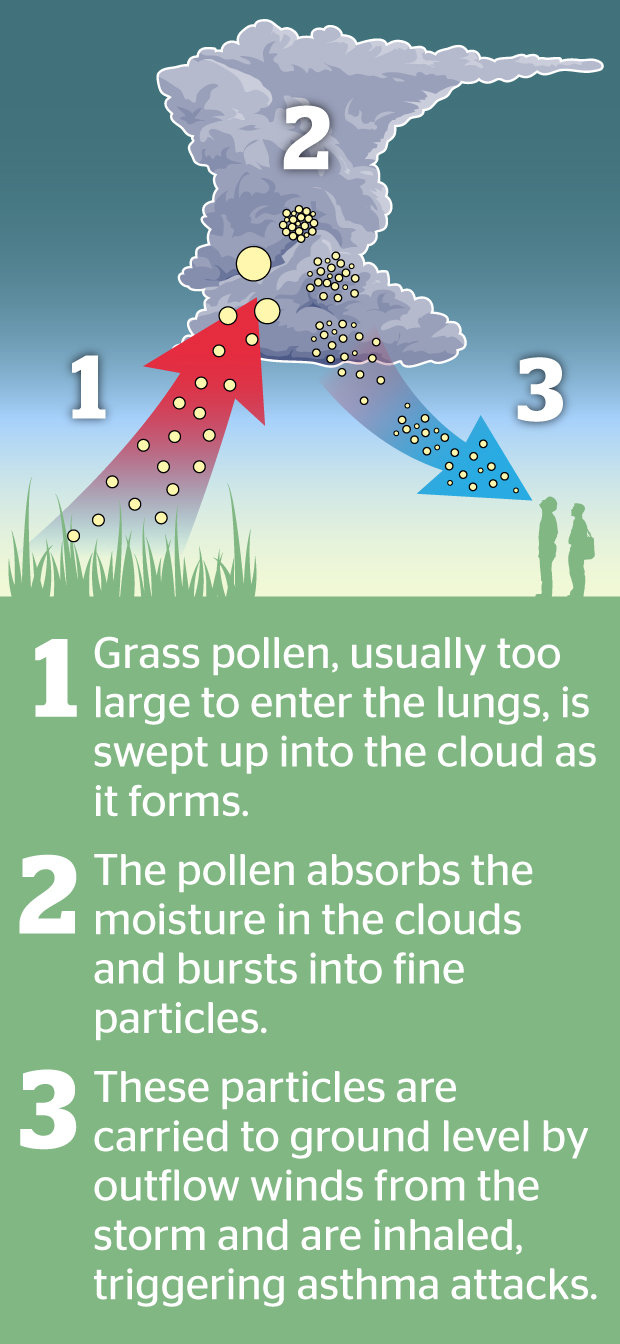 MetService pollen forecaster David Fountain also believed thunderstorm asthma was possible in New Zealand.
But the storm would have to be much more intense than normal.
The current warm weather was causing high grass pollen production. The high pollen season would go through until the end of December and then drop away as the grasses go to seed.
Fountain was aware of reports of thunderstorm asthma in Melbourne about 10 to 15 years ago.
The humidity change of a perfect storm bursts pollen capsules, which explode tiny pollens at concentrations a million times higher than what is usually in the air and irritate airways.
People with mild asthma, or who have never experienced an asthma attack, are often most affected because they aren't actively taking treatment or have management plans.
Melbourne is the "thunderstorm" capital of the world. Epidemics were recorded in 1987, 1989 and November 2010.
On Monday night, more than 1870 calls for ambulances were made between 6pm and 11pm. At least 600 callers had respiratory symptoms.
Extra staff were brought into overwhelmed hospitals, the fire brigade provided more first-responders and Victoria Police did welfare checks. Private hospitals, including Cabrini and the Epworth, opened their emergency departments for public patients.