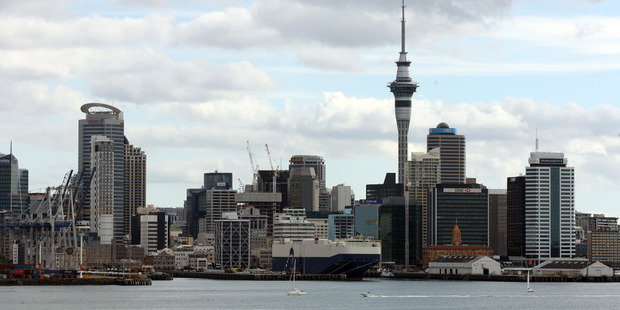 Auckland's proposed new $500,000 slogan has become the subject of mass embarrassment - and dubbed the "most expensive two-word translation in the history of the city".
Ngāti Whātua Ōrākei Trust has expressed disappointment over the slogan, "The Place Desired by Many" - worked on by 115 council staff over two years - which was created without proper consultation with iwi.
The Auckland Ratepayers' Alliance has described the buzz words as "the most expensive two-word translation in the history of Auckland".
And away from the City of Sails, mayors have also ripped into the slogan, with Grey District mayor Tony Kokshoorn saying the cost to come up with it was "patently ridiculous".
Tāmaki Makaurau 'the land loved by many' is a translation used by Ngāti Whātua Ōrākei and many iwi across the region for centuries.
The city's proposed new global brand - The Place Desired by Many - was worked on by three project staff over two year, while115 council staff attended workshops.
Council-controlled organisation Auckland Tourism, Events and Economic Development (Ateed) says the catchphrase was never meant to be a slogan, but was part of an "Auckland story" that could be marketed to a global audience.
"Ngāti Whātua Ōrākei believes a lot of time and money could have been saved by simply engaging with iwi and the community," the Ngāti Whātua Ōrākei Trust said in a statement.
"The Trust is disappointed that this proposed slogan is likely to end up on the scrap heap because the process has not been handled well."
Meanwhile, the Auckland Ratepayers' Alliance slammed the project's budget, calling the process "yet another wasteful disgrace".
"This must be the most expensive two-word translation in the history of Auckland," said spokeswoman Jo Holmes.
"Putting aside the merits of this particular slogan, we simply do not need to spend big bucks on a new city tag line every time a new council or mayor is elected."
That was not what Aucklanders paid their rates for, Holmes said.
And it has drawn a shamefaced response from Herald readers.
"Not only a complete, and certainly not-required, waste of council's time and ratepayers' money, but one of the worst city slogans in history," wrote Barry Brown.
Jewele McLeod summed the situation up with "If you didn't laugh, you'd cry".
Others questioned why the slogan needed to be changed at all.
"What on earth is wrong with 'Auckland The City of Sails'?" Rob Morton asked.
Al Armiger wrote "[Phil] Goff needs to take the hatchet and cull the bureaucracy that is the City of Auckland with its excesses of time wasters, spin doctors and day dreamers who achieve little for the city except cost."
Around the country, mayors of other districts also questioned whether half a million dollars was a reasonable price for five words.
Grey District mayor Tony Kokshoorn was shocked when the Herald on Sunday told him the cost of the slogan.
"To come up with 'A Place Desired by Many' as a slogan that cost half a million dollars is patently ridiculous," he said.
"We've just been through a rebranding exercise here over the last three years and went through the same process and we came up with a slogan for our area of Greymouth - put it this way our [cost] was more like four digits [than six]."
He said he didn't want to knock the slogan but it "doesn't really inspire me to be honest".
Kokshoorn said he hoped new Auckland mayor Phil Goff could get on top of Auckland's budget.
"These things are why people lose faith in the system. Councils have got to get on top of this kind of expenditure.
"The ratepayers aren't a bottomless pit."
Hamilton mayor Andrew King did not wish to give his verdict on the slogan itself, saying it wasn't his town, but he also commented on the cost of the process.
"It's a lot of money isn't it. It's just a lot of money."
Invercargill mayor Tim Shadbolt questioned whether the hassle of trying to get people on board with a new city slogan was worth it.
"It's never going to be an easy ride," he said, adding money was another issue altogether "and it is one that causes upset every time there's a change".
Wellington mayor Justin Lester said it wasn't his place to comment on Auckland issues and he did not want to give his opinion on the slogan.
Goff didn't respond to messages from the Herald on Sunday yesterday.
A spokeswoman had earlier told the Weekend Herald that Goff was aware of the slogan, but it was not a project the mayor was interested in championing.