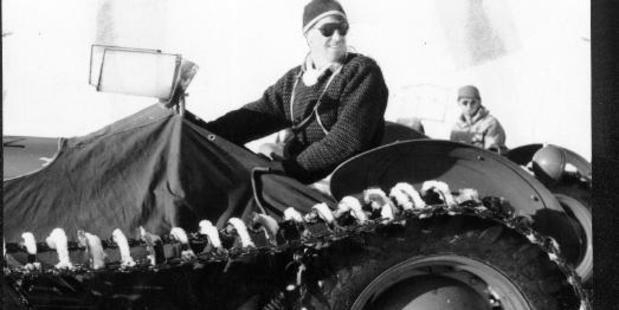 KEY POINTS
5pm Embargo

It played a key role in one of Sir Edmund Hillary's greatest pioneering adventures, one which elevated him alongside the great Antarctic explorers of Shackleton, Amundsen, and Scott.

Hillary's Hut - the first building at Scott Base - was the launching pad for the famous Trans-Antarctic Expedition of 1957-58.

The coast-to-coast crossing of Antarctica, using the now legendary Ferguson TE-20 tractors, was the first overland expedition to reach the Pole since Captain Robert Falcon Scott's ill-fated voyage in 1912.

But over the last 60 years, the hut - one of Antarctica's most precious heritage sites - has slowly fallen into a state of disrepair.

It has a leaking roof, asbestos that needs removing, melt-pools forming under its floorboards, while unique and historically-important memorabilia inside it are showing signs of damage or corrosion.

Today, the Antarctic Heritage Trust has launched a major fundraising drive to help raise $1million Sir Ed's Hut which would maintain it for the next 25 years.

It has revealed 'Expedition South', a month-long journey from one of Sir Ed's favourite places, Piha Beach where he had a bach for many years, to Aoraki Mount Cook, finishing in sight of the Hillary Ridge.

They will travel the same distance of 2012kms that Hillary and his team did on three
tractors - two of them similar Ferguson TE-20 model tractors that Sir Ed and his
team had, the other a new Massey Ferguson MF5600.

Along the way, the Expedition South team will be stopping at various schools, events, and Hillary hot spots to collect donations from the public.

"We are calling on Kiwis to give a fiver," Antarctic Heritage Trust Executive Director Nigel Watson said.

"The $5 note has Sir Ed's face on it so we can't think of a better use for it than saving his Antarctic legacy."

If all goes to plan, the Expedition South team will arrive at Aoraki Mount Cook on September 20.

Watson believes the hut, which was used by Scott Base staff until the 1980s, and its artefacts can be saved.

"We have put together a comprehensive conservation plan that details how the hut
and artefacts can be conserved and maintained for 25 years," he said.

"We just need to raise the funds to do so and are hoping New Zealanders can help us save this valuable slice of Kiwi history."

Sir Ed's son Peter Hillary, who himself has skied from Scott Base to the South Pole,
says Antarctica and the hut were very important to his father.

"Dad often talked about his time in Antarctica and the trip to the South Pole ... he
saw it as one of his major achievements saying it was an extreme challenge after
Everest," he said.

"He spent a lot of time in that hut - it was where his office was and where his bunk bed was. I know he'd want it saved."

Sir Ed's widow Lady June Hillary welcomed the "exciting" campaign and believed that Kiwis would get behind it.

"The hut was used as a mess hut it was the radio hut, it was where Ed lived, it was the hub really," she told the Herald.

"It's all growing down there, people are going down there a lot and working there, so this something old, reminiscent of how it all started, and they can do their work around it. Historically, it will be very interesting."

The Antarctic Heritage Trust charity has already received more than $500,000 in donations and pledges towards the project.

It hopes to undertake the refurbishment work this Antarctic summer season so it would be finished in time for the 60th anniversary of Scott Base next year.

Peter Hillary hopes the campaign will capture the imagination of New Zealanders.

"Dad was quoted as saying that he was "hell bent on taking the South Pole - God
willing and crevasse permitting'. Now I'm hoping New Zealand will be hell bent on
saving his hut."

• For more information Expedition South or to donate, visit expeditionsouth.nz
THE TRANS-ANTARCTIC EXPEDITION
Fresh from his Everest conquest in 1953, along with Sherpa Tenzing Norgay becoming the first in history to scale the world's tallest peak, Sir Edmund Hillary was chosen to help lead the Trans-Antarctic Expedition (TAE).
The expedition was an ambitious coast-to-coast crossing of Antarctica that spanned 3,473kms, from the Weddell Sea to McMurdo Sound over the summer of 1957-58.
The expedition consisted of two teams - the Crossing Party, led by British explorer Vivian
Fuchs, and the Ross Sea Support Party, led by Hillary.
Hillary's team was charged with building a base at McMurdo Sound, establishing a route onto the Polar plateau and laying depots of food and fuel for Fuchs' team.
It saw Hillary establishing Scott Base and, with his 22-strong group wintering over on the ice to lay the supplies and establish the route. Hillary's Hut was the first building they constructed.
After the supplies were laid, Hillary and four of the team (Peter Mulgrew, Murray Ellis, Jim
Bates and Derek Wright) took the opportunity to travel on three Ferguson TE-20 tractors to the South Pole.
It was a journey that Hillary made without the express permission of the TAE leadership, arriving at the South Pole on January 4, 1958.
His was the first overland expedition to reach the Pole since Captain Robert Falcon Scott in 1912 and the first to do so using motor vehicles.