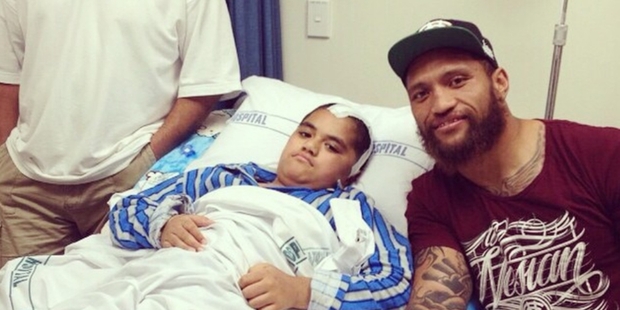 A boy stabbed in the head at school three months ago is now able to sit up and will soon start learning to walk again.
Mateaki Lolohea, 11, was in a coma for more than 10 days after being stabbed through the temple with scissors during a fight at Pacific Christian School on June 24.
This week, the young sports fan received a visit at Starship Children's Hospital from Warriors rugby league star Manu Vatuvei, who said he was in good spirits.
"It's looking good for him at the moment," Vatuvei said. "He's talking, he can sit up ... and he can use his upper body to pull himself up."
Mateaki was to begin a rehabilitation programme for his walking next week, Vatuvei was told at the hospital.
"It's looking, if things go right for him, that he'll be walking again."
On Tuesday, Vatuvei posted a photo of his hospital visit to his Instagram account. The picture shows the league player with Mateaki and his father, Salesi, with the caption: "Was good to spend time with Mateaki Lolohea & his dad while he's on his way to recovery!!"
"I was just there talking to him and seeing how he is. It was just good to see him chatting. At the start he was a bit shy. Afterwards we had a talk."