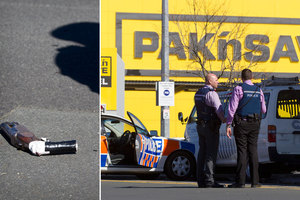 Police commissioner Mike Bush has visited the officer shot in the foot while tackling a gunman in Hamilton earlier this week.
In a blog post, the commissioner hailed the courage shown by the three dog handlers involved in the incident, who arrested an armed man in the city on Monday, saying it was "something we can all be proud of".
"Thanks to the heroic actions of these three officers, a volatile and extremely dangerous incident was brought to an end," Mr Bush said.
"The reported comments of members of the public who witnessed the arrest left no doubt that they were in awe of the courage and professionalism on display."
Mr Bush had visited the wounded officer earlier today to "personally thank and congratulate him for his bravery and quick thinking", as well as the other two dog handlers.
"They are a great example of dedicated police officers who put the safety of the community before themselves," he said.
"I was pleased to see that the injured officer is in good spirits and looking forward to returning to work."
The officer was recovering with his family and should be back on the beat soon, he said.
The 35-year-old armed man, who was injured in Monday's incident, was released from hospital yesterday and appeared in Hamilton District Court on numerous charges.
- APNZ