Labour MP unsuccessfully pressed the Associate Immigration Minister to grant woman residency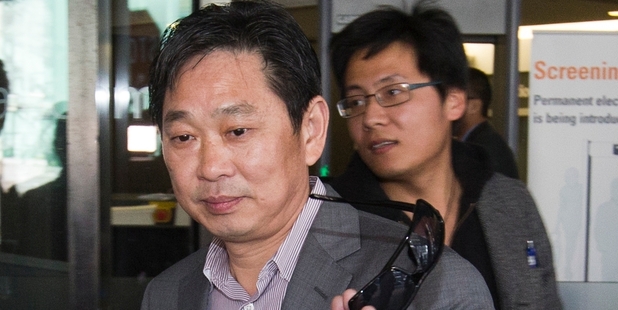 Shane Jones, while still in Parliament, lobbied a Government minister to intervene in the residency bid of Donghua Liu's partner - a request which was turned down six days after another minister was forced to resign because of his links to the controversial businessman.
Juan Zhang has two New Zealand-born children with Liu and works as a finance manager in his property development company, which owns 20,000sq m of prime land in the heart of Auckland
The couple have remained living together in a $3.5 million home in Remuera, even after Liu admitted assaulting Ms Zhang, 32.
He was due to be sentenced in the Auckland District Court yesterday.
But Liu, 53, had a last-minute change of heart and his lawyer, Paul Davison, QC, applied for him to be able to vacate his previous guilty plea. A new court hearing has been set for October.
The Herald has learned that Immigration Service officials declined Ms Zhang's application for permanent residence in New Zealand under the work category as she does not meet the criteria.
She was advised in October that her application did not meet requirements in other residency categories and she could appeal to the Immigration and Protection Tribunal.
Liu also has two children with his former partner, Jia Xu - who was recently granted permanent residency - and following his arrest in December, he was bailed to live with her for a short time in the $2 million home she occupies - and he owns - in the upmarket suburb of Orakei.
Ms Zhang appealed to Associate Immigration Minister Nikki Kaye to use her discretion to overturn the decision to refuse her residency.
Shane Jones, still a senior Labour Party MP at the time, wrote two notes to Ms Kaye in support of Ms Zhang's appeal.
He said that while her skills were not "technically within the ambit" of the work residency category, she was very competent in financial management and was a regular taxpayer.
"Based on my own experience, it would not be unreasonable for you to make an exception and give her and these two New Zealand children stability by providing her with residency," Mr Jones wrote.
"As you know, I have been an Immigration Minister in the past and am aware that judgment calls of this nature arise from time to time."
An email in December shows Mr Jones also discussed the case in person with Ms Kaye.
"It would be a fantastic outcome if she can receive a positive response from you ...
"I very rarely seek your intervention and am only pushing this matter avidly because of the two very young Kiwi children," he wrote.
"If you need further information please contact me as I am very passionate about this case and will not be desisting."
A spokeswoman for Ms Kaye confirmed that the minister considered the case and declined to intervene on May 7 - six days after National Party MP Maurice Williamson was forced to resign from his ministerial portfolios when the Herald revealed he had phoned senior police about a prosecution against Liu.
Mr Jones did not respond to messages.
Investigations by the Herald this year have shown Liu made connections with MPs from both sides of the political spectrum.