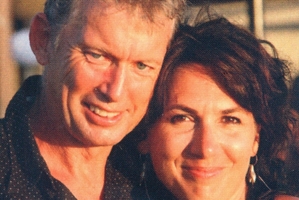 A group of friends who were on board a helicopter that crashed last weekend - killing one of them - have paid tribute to a "bloody good mate" who lived for adventure.
Jerome Box, 52, was killed when the helicopter he and seven others were in clipped Mt Alta, near Wanaka, and crashed last Saturday.
The other men on board - five heli-skiers, a guide and the pilot - survived. Mr Box and his friends were part of a larger group who were on an annual boys' weekend trip.
Yesterday, hundreds of people packed into Auckland's Greenlane Christian Centre for the emotional service.
The congregation watched silently as a group of men who had gone on the trip were invited to the stage.
They included two men who had been on board the flight, who were heavily bandaged - one with a neck brace and the other with a sling.
Friend David said they had had a great day on Friday after arriving in Queenstown.
"He pulled out two bottles of champagne and some cheese ... and we made a toast to start off the weekend. That's what he was like. He gave his time and his money freely and abundantly."
No other details were given about the lead-up to the accident.
Mr Box's wife Adelle and the couple's two young children, Briana and Xavier, did not speak at the service but stood together with their arms linked as they cried softly.
The congregation heard how Mr Box - who grew up in Gisborne - had had a number of passions including photography and filming, writing poetry and building.
He was a devoted Christian and respected member of St Paul's Church on Symonds St.
His siblings Greg, Gaybrielle and Elizabeth, said their brother had always been an adrenalin junkie and had been on more than 100 sky dives.
Mr Box will be buried today in Albany.