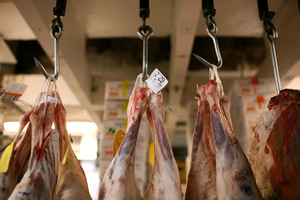 A man is in a stable condition today after being impaled through his head by a hook on a piece of equipment at a Bay of Plenty meat works yesterday.
Ambulance staff were alerted to the incident at the Affco meat works in Paengaroa about 7.10pm, ambulance spokesman Norm Ngatai said.
"A man in his 40s [has been] impaled by a spreader. A spreader is what keeps the...legs of a cow open.
"He's been caught up on that through the back of the head into the face."
The Te Puke man, in his 40s was today in a stable condition at Tauranga Hospital, a hospital spokeswoman said.
Mr Ngatai told Radio New Zealand it was a horrifying situation for the man.
During the 90-minute ordeal the man was standing while emergency staff worked to free him.
"We were quite concerned for the patient so we facilitated a conference call with our clinical support desk and our medical adviser, along with crews on the scene.
"And the purpose of the plan was just to find a way to extricate the patient with minimal risk."
Once the plan was initiated, the man was able to move away to free himself from the spreader, Mr Ngatai said.
The man was conscious for the entire procedure, he said.
WorkSafe New Zealand was investigating the incident, a spokesman said.
He would not say if investigators visited the plant last night.
A spokeswoman for the Paengaroa plant said the company would also not be making any comment about the incident.
A spokesman for Affco's corporate office in Horotiu confirmed the company would be launching its own investigation into the incident.
But he said the company would not be making any further comment while investigations were underway.
- APNZ