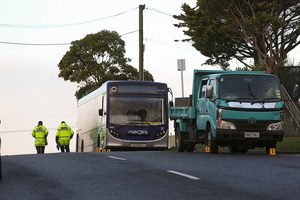 An Auckland teenager is in a stable condition in hospital after he was hit by a truck earlier this week.
The 17-year-old Lynfield College student was dragged under a two-tonne truck on Terry St in Blockhouse Bay on Thursday afternoon.
The schoolboy initially showed signs of improvement, before his condition deteriorated late on Friday.
Horrified witnesses saw him dash across Terry St in front of a bus about 3.40pm on Thursday, to catch another bus which had arrived at a stop directly opposite.
He is understood to have gone to his home nearby to change clothes after school was let out early, and had tried to catch the first bus to go shopping in New Lynn.
But its driver told him it was not going there, and he needed to catch the other bus instead.
A two-tonne goods truck travelling west along Terry St after rounding a corner from Boundary Rd then passed between the two stationary buses, hitting the young man and dragging him up to 15 metres downhill while braking.
- additional reporting Newstalk ZB
- APNZ