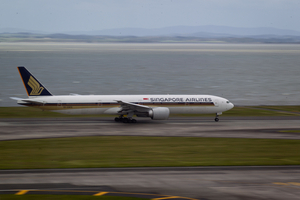 Singapore Airlines is unsure what caused a false fire alarm on one of its aircraft this morning.
Emergency services were called to Auckland Airport when they were notified there was smoke in the cargo hold of an incoming Singapore Airlines 777.
Both airport emergency services and the New Zealand Fire Service responded.
The fire indicator warning in the cockpit had gone off, said Station Manager for Singapore Airlines Auckland Nicholas Leong.
"The fire extinguisher inside the cargo hold was discharged as a result as a precaution."
After all the passengers were disembarked from the aircraft, the cargo hold was opened up to see whether there was a fire, and neither fire nor smoke were found in the hold, Mr Leong said.
The airline was unsure as to what had caused the warning to go off, and further investigation would follow, he said.
"Everyone is safe and fine and well, and the aircraft has gone back [to Singapore] with passengers."
On the aircraft's return flight to Singapore they were unable to use the hold for cargo and bags, as the fire equipment on board was used this morning. However it was safe to fly the plane without this equipment on board, Mr Leong said.
Fire Services spokesman Scott Osmond said eight appliances attended the scene at around 10.30am.
"We got advised there was an aircraft coming in that had a notification of smoke in the cargo hold.
"The aircraft landed safely and there was, in fact, no fire."