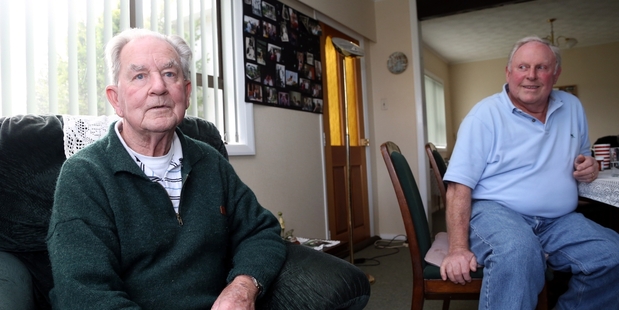 Thieves have stolen all but the shirt off an elderly Wanganui man's back in the past three weeks - not even the milk in his fridge was safe.
Castlecliff resident Ron Rush, who is partially blind, has had his house burgled twice in the space of a month - and he said the burglars' actions were "creepy".
Mr Rush, 74, slept soundly through the first break-in as burglars entered his bedroom, rifled through his pants pocket - taking spare coins and a $5 note - before grabbing the drawer from his bedroom unit and taking it to the lounge to tip out.
"It's creepy, them walking right around your bedroom while you're fast asleep," he said.
His father's five war medals were also snatched.
"We're trying to get the description from Waiouru, what they were and what they were for," he said.
His television was stolen, but was found the same day after a rental manager noticed a broken window on an empty house and found the TV wrapped up in one of Mr Rush's tablecloths and some towels.
Even two bags of chips were taken from the pantry, and a bottle of milk was taken from the fridge, to the bewilderment of Mr Rush and police.
He said that theft became apparent after his granddaughter came to visit and he offered to make her a drink, only to find his new packet of Milo also missing from the pantry.
The thieves tried to take the TV again during the second burglary on Thursday, this time during the day.
Mr Rush believed he disturbed the burglars by coming home, because he found the TV in the bathroom beside the smashed bathroom window.
He said he felt vulnerable, especially given his poor eyesight.
"I'm 74, I shouldn't be having this rubbish, especially in my own home," he said. "It's horrible. They violated my house."
Mr Rush thought the thieves were the same people on both occasions. He suspected they were local and may have seen him walking around Castlecliff with his stick and realised he was partially blind, making him a target.
A fellow member of Mr Rush's vision-impaired indoor bowling team, Colleen Pryce, said the burglaries were "bloody despicable".
"There are good people in the neighbourhood who will keep a closer eye on him and his property if they knew these things are happening," said Mrs Pryce, who also works as an administrator at the Blind Foundation Wanganui.
"Obviously there's a right A-hole living in the neighbourhood, but there are good people too.
"One of the neighbours may have seen something and not realised the significance of it."
Acting Sergeant and officer in charge of the Puriri neighbourhood policing team Marty Kilpatrick said police inquiries into the burglary were continuing, and they were especially interested in the stolen war medals.
"Those medals are an important part of Mr Rush's family history," Mr Kilpatrick said.
Anyone with information can call 06 349 0600 and ask for Mr Kilpatrick, or call Crimestoppers on 0800 555 111.
People should also record serial numbers of their property and distinctive features, damage or scratches. Numbers can be stored online at snap.org.nz to be accessed if anything is stolen.
For more articles from this region, go to Wanganui Chronicle