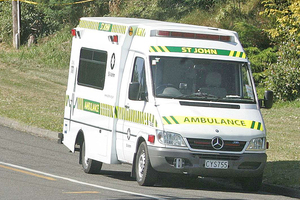 A young man with critical leg injuries lay trapped in his crashed ute for more than 12 hours after his vehicle crashed down a bank and into a tree.
The ute left State Highway 2 in the Wharerata Hills near Morere, south of Gisborne, last night.
Police, fire service crews from Nuhaka and Wairoa, and a St John ambulance from Gisborne were called to the accident scene this morning and it took several hours to get him free.
The farmer who owned the property where the ute crashed found him this morning and called 111.
"He is lucky to be alive," said St John territory manager Shane Clapperton.
The injured man, aged about 20, was flown to Hawke's Bay Hospital in Hastings.
"He has multiple, critical injuries to his legs," Mr Clapperton said.
The ute the man was driving went off the highway, down a bank and hit the tree at about 10pm last night.
He was the only person in the vehicle.
Police said it was not clear what caused the accident at this stage.
"It happened on a tight corner about 2km north of Morere that is prone to accidents."
Emergency personnel finally freed the man from the wreckage at about 10.15am today.
"It took us more than three hours to get him out of the vehicle," Mr Clapperton said.
"It was a massive challenge to get him out of there.
"The Wairoa and Nuhaka firefighters did a great job."
Police said the weather was "shocking" when emergency crews arrived at the accident scene.
"It was snowing lightly when we arrived," Mr Clapperton said.
"Fortunately for the young guy, it had been northwesterly overnight, so not so chilly.
"But when the southwesterly came through it got bitterly cold.
"He is lucky to be alive."
The weather conditions were too bad initially to get a rescue helicopter into the crash site.
But conditions improved eventually and the Lowe Corporation machine from Hastings landed and flew the injured man to hospital in Hastings.
- Gisborne Herald