Images offer public first look at hush-hush $1.5m state house concept for Queens Wharf.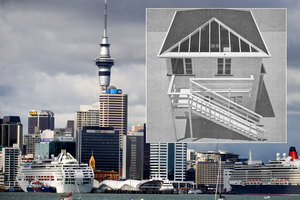 Plans to install a state house as a piece of art on Auckland's waterfront have been called a waste of money, offensive and plain stupid.
The Herald yesterday revealed a black and white image of what the $1.5 million sculpture on Queens Wharf will look like.
The newspaper received huge feedback about the article, with most people unhappy about the state house sculpture.
Many felt it was a waste of money and were particularly unimpressed about the idea of a state house being dubbed art.
"Passengers who've spent thousands on their cruises won't want to see the inside of a state house and the people of Auckland certainly won't want their rates money spent on this," emailed Heather Buckley.
"Surely there are far more worthy things that our money could be spent on."
A number of people noted that the idea of a state house decked out with extravagant details was offensive, given the number of Aucklanders living in cold and damp state homes.
John Ringer wondered whether the weekend's Super Moon had somehow blinded decision-makers. "Absolutely unbelievable! Hand-cut Venetian glass? If my rates are paying for any of this, I'm emigrating to the Auckland Islands."
The Taxpayers' Union also hit out at the plans, saying ratepayers expected more from elected representatives and did not accept "loose spending" on such things.
A council spokesman and spokesman for the mayor said they had no comment to make regarding the issue at this stage.
Home truths
*Cost around $1.5 million.
*Arose from a $1 million gift to the city, from real estate company Barfoot & Thompson.
*Includes a $705,000 hand-blown Venetian chandelier
*By sculptor Michael Parekowhai