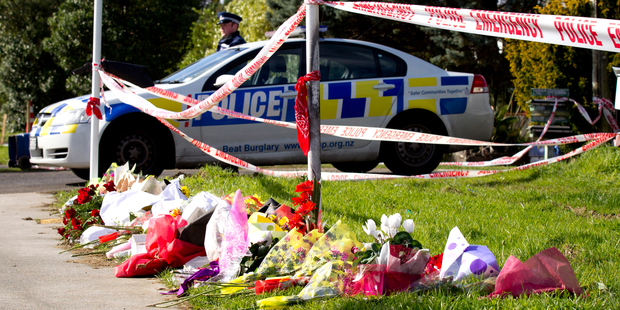 A floral shrine to Connor Morris continues to grow on the berm at the place where he was killed, while his girlfriend and mother have thanked the public for their support.
About 20 bouquets of flowers line the grass alongside the footpath where Mr Morris was attacked last weekend on Don Buck Rd in Massey, West Auckland.
Armed police continue to guard the crime scene amid fears of reprisals but are yet to make an arrest. "Items of interest" have been recovered, but police have not confirmed if a weapon is among them.
Mr Morris, a Head Hunters gang member and six-year partner of Kiwi broadcaster Sir Paul Holmes' daughter Millie Elder-Holmes, died last Sunday after being struck with what is believed to have been a machete in the back of the head.
A post on the R.I.P Connor Morris Facebook page on Friday from his family appears to have been well supported.
Read more:
Progress in Connor Morris death inquiry
Millie delivers emotional eulogy for boyfriend Connor Morris
"If anyone would like to lay flowers or pay there [sic] respects, it would be greatly appreciated if you could do it at this spot," the post read.
The bouquets continued to build up yesterday.
Last night, Mr Morris' mother, Julie, thanked everyone who had supported the page since it was set up following his death.
The family and Ms Elder-Holmes were "overwhelmed by the outpouring of love and support from all who have taken the time to like, comment and share all the precious memories that have poured in for our beloved Connor", the statement said.
"As a mother, it was easy to love Connor, but I had no idea of just how many others felt the same way.
Photos: Farewell for Connor Morris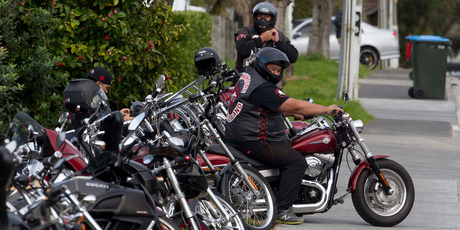 "[Mr Morris' father] Chris and I are humbled by the thousands of lives who were touched by knowing our son and how much of a positive influence he had on those he came across.
"It has been comforting to share all of your memories, of which each and every one is helping us through this impossible time."
Ms Elder-Holmes also posted a passionate thank you last night.
"No words can describe how hard this has hit myself and [Mr Morris'] family. There has been an outpouring of support from not only the west Auckland community, where we live, but the whole country.
"I'd like to say a huge thank-you to everyone who sent flowers, dropped us food, dog food, cards, gifts. It's all appreciated so so much ...
"Right now I'm taking things one day at a time. I'm so lucky to have his family and all the amazing people in my life supporting me."