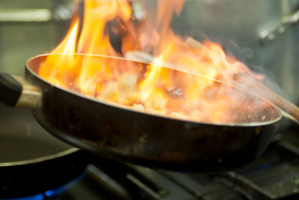 A chef who walked off the job after a heated morning in which she allegedly threw a pan and reduced a staff member to tears has failed in her bid to claim more pay.
Peta Costello had been the head chef at Logans Catering in rural Karaka, south Auckland, until September 7 last year.
She told the Employment Relations Authority (ERA) she resigned verbally the previous month, and had been serving out her four week's notice when her employment was abruptly terminated.
Read more:
• Abused the boss? You're hired
• Hotel didn't pay worker for six months
She claimed to be owed three week's pay for her remaining notice period.
Logans Catering owner James Logan denied Ms Costello had resigned verbally the previous month, and said she had quit on September 7 rather than being dismissed.
The case rests on the heated events of that day, when tensions apparently spilled over in the kitchen of the company's St Margarets Cafe in Karaka.
Junior commis chef Brett Radcliffe told the ERA there had been a good atmosphere until 10am, when Ms Costello's attitude changed.
He said she became malicious towards him, criticised his work ethic and blamed him for things he had no responsibility for.
The alleged bullying continued after Mr Radcliffe left the kitchen for some time. He said Ms Costello was angry, swearing, and throwing pots and pans on the floor.
Mr Radcliffe said he was reduced to tears by the bullying behaviour, which he had not experienced before.
Waitress Glenys Adlington told the ERA that about 11am, Ms Costello rolled up her kitchen knives and said: "I've had enough, I'm out of here."
However, Ms Costello returned to the kitchen after being told Mr Logan was in a meeting.
Tensions resumed when Mr Logan tried to discuss the issue with both chefs after lunch service.
Mr Logan told Ms Costello he was upset by her comments to Mr Radcliffe, but when he tried to discuss what occurred, she became abusive.
He denied dismissing Ms Costello, saying she had told him: "I'll never be back in this f****** s***hole."
Ms Costello told the ERA she had been angry at the state of the kitchen utensils, which she said were dirty, and food she said was out of date.
She agreed she may have been rude to Mr Radcliffe several times that morning, but denied throwing pots and pans onto the floor, saying she only threw one pan in a sink.
Ms Costello said Mr Logan had shouted at her and behaved threateningly, saying she "would never get another job around here". She laid a complaint with police but no action was taken against Mr Logan.
ERA member Eleanor Robinson found Ms Costello had resigned verbally on August 30, but she was not dismissed while serving out her notice period.
The ERA found Ms Costello had made it clear on September 7 that she did not intend to work out her remaining notice period, and was therefore not owed any pay.
Costs were reserved.
Mr Logan said he was happy with the decision.
"It was definitely a fair result," he said.
Coment was being sought from Ms Costello.
- APNZ