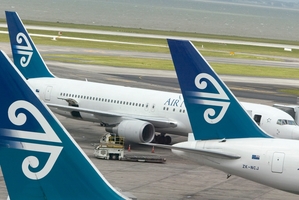 Air New Zealand will set up a special team to fly overseas to deal with large scale passenger disruptions following a review into the stranding of 227 passengers in Hawaii last week.
The airline was also continuing another inquiry into claims that pilots and cabin crew in Honolulu had been drinking and would not have been available for duty at one point, even if the aircraft had been airworthy.
Following the initial investigation into the stranding, the airline's chief executive Christopher Luxon said it would invest in a new communication system to provide better contact with affected passengers.
The investigation found the root cause of the disruption was an engineering issue which had previously been identified as a faulty warning light on a Boeing 767.
"I want to apologise again for the way our management of this situation let you down. While engineering disruptions are unfortunately a fact of life from time to time in the aviation industry, the situation should have been better managed on many levels and some valuable lessons have been learned," Mr Luxon said in a letter to passengers.
"Overwhelmingly your feedback had three key themes: communication with passengers; a lack of clear leadership and support; and a lack of empathy for the situation our passengers found themselves in," Luxon said.
The airline will improve training for "disruption management" for all international airport management teams.
In the wake of the drinking claims, all Air New Zealand staff will be reminded of the company's code of conduct to ensure there can be no misunderstanding of expected standards.
Luxon said he was "extremely grateful for the frank and constructive nature of the conversations we've had", and hoped customers saw the actions outlined as being an indication of how seriously the airline took the incident.
Compensation of $1000 was offered to each of the passengers, who were stranded for up to 56 hours.