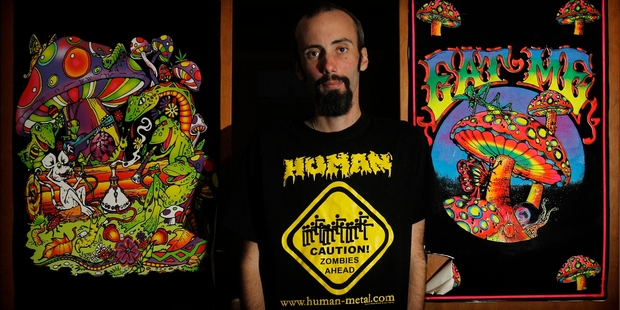 A bogan who made a career out of his Holden car-loving, heavy metal, black T-shirt-wearing lifestyle is to bring "boganology" to the small screen thanks to more than $300,000 of taxpayer money.
Dave Snell, whose PhD on bogans was also funded by the taxpayer back in 2007 to the tune of $96,000, is to feature in an observational documentary series exploring the lives of Kiwi bogans.
The 10-episode series, titled Bogan's Heroes, was yesterday granted $321,902 by NZ on Air. Five other documentaries also received grants. The money will partially fund the programme, not yet in production, which will air on TV2 at an unconfirmed date.
Dr Snell, or Dr Bogan as he is known, became a household name in boganism when he won the prestigious scholarship from the Tertiary Education Commission eight years ago to pay for his research into bogans at the University of Waikato.
After his thesis, Dr Snell published a book on his favourite subject called Bogan: An insider's guide to metal, mullets and mayhem. He told the Herald he couldn't comment on the new venture, to be produced by Nigel Snowden of Workhouse.
Mr Snowden was not returning calls but a NZ on Air spokeswoman said Bogan's Heroes was chosen on merit. "Each applicant has to go through quite a process of show-and-tell of what the programme will be, and what target audience they are looking for. We're also assessing the applications based on what we know of the production company."
Former National Party spokesman for tertiary education Dr Paul Hutchison previously criticised the awarding of public funding for doctorate topics such as Dr Snell's.
Yesterday he admitted to still being "slightly sceptical" of the topic but said the proof would be in the pudding. "Good on 'em. He's obviously managed to convince people there's substance to him. So I look forward very much to seeing it.
"I think and I hope taxpayers will look at it with interest and hopefully then we can really assess how worthwhile the investment has been."
Dr Hutchison, the MP for Hunua, said the use of public money must always be thoroughly scrutinised.
And while heavy metal was not his "cup of tea", he believed it was vital to a vibrant and varied "tapestry of life".
Labour's spokesman for broadcasting, Kris Faafoi, said it was up to NZ on Air to make such funding decisions but "I guess bogans are part of New Zealand culture too".
Other programmes to receive funding included old favourite Country Calendar.