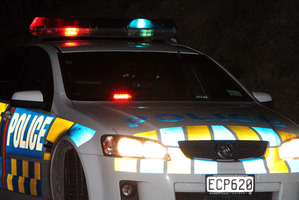 Elderly residents were robbed of a wallet, mobile phone and their BMW after an armed man forced his way into their Levin home last night, police say.
The man entered the Liverpool St home about 6.30pm, confronted the residents with a knife and made demands before taking their possessions, Detective Sergeant Peter Vine said.
He then drove the stolen vehicle to the McArthur St dairy and attempted to rob the owners, he said.
A short time later the vehicle was spotted by police who signalled for the driver to pullover, but the man failed to stop.
Officers pursued the vehicle until it was abandoned in Opiki, just north of Shannon.
The man disappeared in the surrounding farm land, Mr Vine said.
He was wearing dark clothes and a balaclava.
"Descriptions of the offender are being worked through with the victims, but they are naturally distressed and it will take a bit of time to get some more details," he said.
"We are continuing to support the victims and have also offered them the services of Victim Support."
Police have examined the BMW and the elderly residents' home.
They have also begun to canvas the area around the dairy.
"We are appealing for anyone who saw or heard anything suspicious around Liverpool and McArthur Streets or in the general area including State Highway 57 yesterday evening to early morning to contact police immediately," Mr Vine said.
Anyone with information was asked to contact him on (06) 366 0509.
Anonymous information could also be provided to Crimestoppers on 0800 555 111.
- APNZ