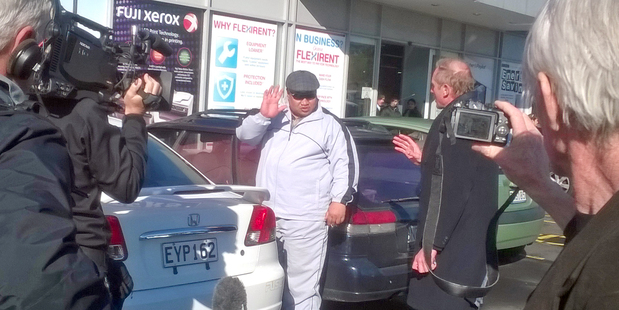 A man who claimed to have knowledge about a murder that shocked Australia is living in New Zealand and facing serious criminal charges here.
Faleata Tuiletufuga, also known as John Tuiletufuga, appeared in the Waitakere District Court this week, in the midst of a chaotic scramble by Australian media to film and interview him.
He currently faces faces three counts of threatening to kill, and one of assaulting a police officer.
Consideration was given to throwing one of the charges out when a witness failed to turn up to give evidence this week. But Judge Kevin Glubb said he would give police "one more chance" to get a witness in court.
The court heard that Tuiletufuga was yet to return from his "lunch break" and he didn't have to appear in the courtroom.
The case involving Tuiletufuga has generated huge public interest in Australia.
Richard Sajko went missing from Sydney in 1995. His disappearance remains one of Australia's most talked-about cold cases.
In 1995, Tuiletufuga, the son of a preacher, allegedly claimed to have information about Sajko's murder. Tuiletufuga's shocked parents took him to police but when questioned, the young man told police he'd made up the story to startle his mother.
Tuiletufuga was deported to New Zealand — but some Australian investigators believe he has information about Sajko's disappearance.
When Tuiletufuga was spotted outside court, journalists pursued him and his associates through a narrow alleyway, into a nearby carpark.
The defendant and his associates tried to drive away — but discovered the vehicle wheels were clamped.
"How would you feel if one of your children just disappeared?" a Channel Seven journalist yelled at Tuiletufuga. "That's what happened to Richard Sajko. Do you know the person who knows more than anyone about what happened to Richard Sajko? You."
Tuiletufuga, dressed in a tracksuit, sunglasses, and beret, retreated to a nearby electrical store while journalist Ross Coulthart yelled at him as stunned Harvey Norman staff looked on in disbelief.
Channel Seven told Tuiletufuga the story "wouldn't go away" and he should take the opportunity to unburden himself.
He also declined to comment to the Herald on Sunday — although one of his friends expressed disgust at being clamped. He told the paper they had to pay $200. The group left after an hour-long standoff.
Tuiletufuga faces a judge-alone trial in upcoming weeks.