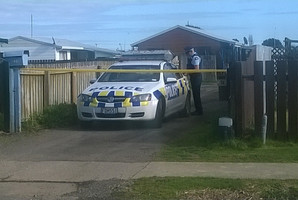 An Opotiki man accused of the murder of Joe Collier has appeared in court.
The 34-year-old man appeared briefly in the Rotorua District Court this morning charged with murder. He was granted interim name suppression until his next court appearance.
The man did not enter a plea and was remanded in custody until August 6.
Mr Collier, 22, died after a large fight near Goring St, Opotiki on Sunday night.
Meanwhile, his best friend will be at his tangi despite being charged with assault using a car as a weapon.
Johnny Barlow Onekawa, 20, who is Mr Collier's best mate according to family supporting him in court, limped into the dock at the Whakatane District Court today charged with assaulting Lance Mase using a vehicle as a weapon on July 13.
Police did not oppose Onekawa's bail and while he is not allowed to go to Mr Colliers' whanau home when the body arrives back later today, Judge Louis Bidois told him he could go to Omarumutu Marae tomorrow and for Friday's tangi.
"There will be too many emotions at the house," Judge Bidois said.
No plea was entered to the charge although Onekawa's lawyer, Steve Franklin, indicated the matter would be defended on the basis of self-defence.
Onekawa was remanded on bail to reappear in the Opotiki District Court on July 24.
Also appearing in court were Steve Tutaki Warren, 32, Zane Herewini Warren, 26, and Kingi Atkins Warren, 25, following an assault in Opotiki yesterday.
The trio, who appeared in blue boiler suits, each face a charge of jointly causing grievous bodily harm to Lance Mase yesterday.
Appearing for the three, lawyer Jonathan Kay asked for a remand in custody by consent until Friday.
He said legal aid applications had been filled out and a bail application would possibly be made on Friday.
For more articles from this region, go to Rotorua Daily Post