Ocean kayaker calls rescue service after injuries and weather take their toll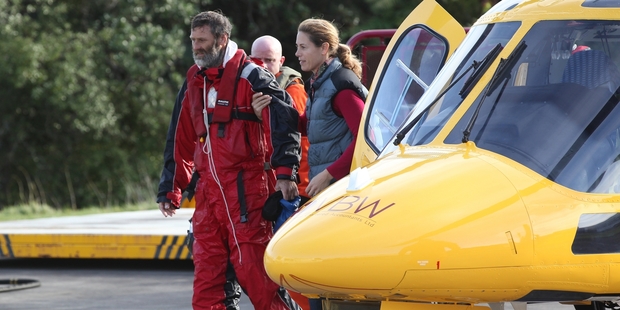 An emotional Scott Donaldson says he will be "irked for a long, long time" after he was rescued from high seas kilometres from completing a three-month odyssey across the Tasman Sea in a kayak.
Mr Donaldson was winched from his kayak on to a rescue helicopter off the Taranaki coast after enduring terrible weather in the most harrowing 24 hours of his journey since leaving Coffs Harbour in New South Wales on April 19.
He had been tantalisingly close to finishing and becoming the first person to paddle solo across the Tasman, and could even see Mt Taranaki at one point.
But bad weather this week kept him at bay and frustratingly pushed him further away.
He was also injured on Thursday night as his kayak was thrashed by the big seas.
Sporting a long beard and still wearing his kayaking gear, Mr Donaldson was met by his wife Sarah when he touched down at Taranaki Base Hospital.
She gave him a hug before they walked to a waiting ambulance. Mr Donaldson, 44, was checked over by doctors then took the chance to shower and shave and put fresh clothes on before he spoke to media at the hospital.
He was emotional as he told how much he was hurting after not finishing his journey.
"I didn't hit the finish line and that irks me deeply and that will irk me for a long, long time," he said. "I didn't want to go home."
Photos: Scott Donaldson reunited with his wife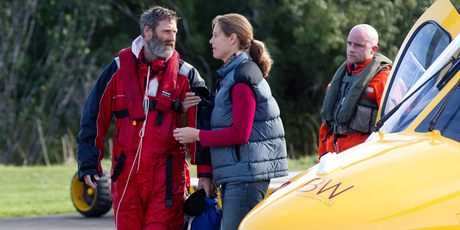 Mr Donaldson said he felt gutted when he saw the helicopter arrive to pluck him from his kayak, which he described as "wearing thin" following the "nastiest night" of the journey.
"I was 36 or 34 miles short and that really gets me," he said.
He said the decision to call off his mission was not made based on emotions - "It wasn't hard to make the call."
He said if he had gone through the bad weather forecast for last night he would have risked losing communications.
He asked to be rescued after his face and chest were injured when the kayak rolled three times during the night and his harness broke. Taranaki Rescue Helicopter pilot Mike Parker and crew member Andy Cronin spent 40 minutes at Mr Donaldson's location 83km off the Taranaki coast to get him on board safely.
Mr Cronin said Mr Donaldson seemed upset but relieved to get on board.
"He was chatty but disappointed."
Mr Parker said the only visible injury Mr Donaldson had suffered in the rough conditions last night was a bang to his nose.
"He didn't let on he was too hurt."
Read also: Aborted kayak bid shows scale of challenge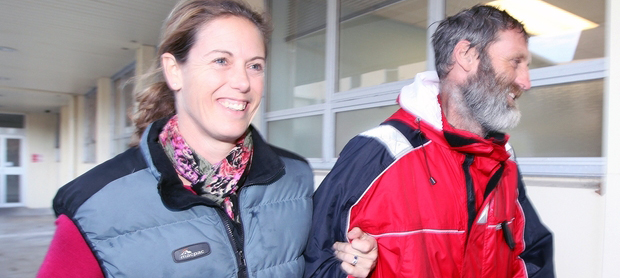 Donaldson says he's unlikely to make a third attempt. Photo / Glenn Jeffey
Mrs Donaldson said she was very relieved to have her husband home and was proud of him.
"He is so strong and determined and that sense of character is priceless."
Mr Donaldson said a third attempt at crossing the Tasman was unlikely but thanked his supporters and apologised for not finishing. In May 2013 he abandoned an attempt two days in when his kayak filled with water.
Mr Donaldson was making the trip to raise awareness for Asthma NZ, an illness both he and his 4-year-old son suffer from. He was also hoping to highlight the importance of increasing aerobic activity levels in our day to day lives.
- APNZ