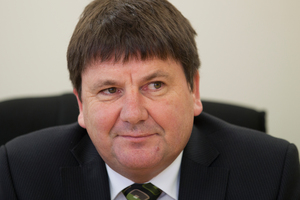 A new resource will help business and app developers better inform users of their rights under Privacy Act.
The Privacy Commissioner John Edwards has just released the 'Need to Know or Nice to Have' guideline, which will help developers understand obligations under the Privacy Act when collecting personal information.
Although apps can gather large amounts of information about their users, they do not explain clearly what information they collect and for what purpose, said Mr Edwards.
The Privacy Commissioner's Office joined 27 overseas privacy authorities from the Global Enforcement Network (GPEN) in carrying out a survey of commonly used apps in May.
As well as international apps, New Zealand apps were also surveyed.
Results showed only 50 per cent had a link to their privacy policies available on the marketplace listing, and once installed on the device 64 per cent did not have a link to the privacy policy within the app itself.
Mr Edwards said results show not enough information was being provided to users about how an app accesses and uses their personal information.
Results from the survey were still being compiled, but current results showed not enough information was being provided to users about how an app accesses and uses their personal information, said Mr Edwards.
"While consumers may assume that established, trusted businesses will develop trustworthy apps, this is not necessarily the case.
"It is important that agencies, businesses and app developers know that it is unlawful to collect more information than is necessary. It is also important that consumers are informed about the permissions they agree to when they download an app."
'We just hope that we can trust them'
One app user was worried after downloading the Lotto NZ app to find it asked for access her camera at any time without permission.
Suzi Heke said she was concerned this gave Lotto the ability to use her camera, and take her photo without her permission.
But Lotto New Zealand said the function only allowed the app to use the camera to scan a ticket barcode and check whether it was a winner.
After speaking to Lotto, Ms Heke said this was acceptable, but was concerned it wasn't better explained on installation.
"I suppose technology is moving so fast, any laws about privacy and protection of data are always going to be out of date," she said.
"In the interim, we just hope that we can trust these organisations."
Lotto New Zealand spokeswoman Emilia Mazur said its policy was not to gather any personal information through apps, and camera access was only used to scan ticket barcodes.
Although not aware of the Commissioner's new guidelines, Lotto had legal help and considered advice from the privacy commission when developing the app, she said.
The app allows users to scan tickets and locate stores, and has a direct link to their privacy policy.