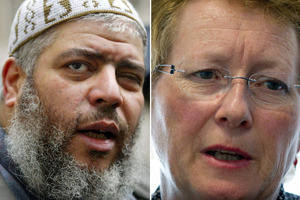 A former kidnap victim says being held hostage made her feel "invincible" enough to become the CEO of Callaghan Innovation, which is indirectly involved in the production of drones.
Mary Quin told TVNZ's Q+A that after the kidnapping ordeal, during which she pointed a gun at a dying kidnapper's head, "there was the sense I was invincible - it made me willing to take more risks in my career choices."
Dr Quin was in Yemen in 1998 working for Xerox Corporation when the kidnapping occurred. Four tourists died in the ordeal.
After a gun battle freed her from the kidnappers, Dr Quin arranged an interview with Egyptian Islamic preacher Abu Hamza al Masri. She would later testify against him when in May this year he was tried under his real name, Mustafa Kemal Mustafa, by the Federal District Court in New York.
That trial featured evidence including audio clips of Mustafa being interviewed by Dr Quin, in which it appeared Mustafa said Dr Quin's kidnapping was "Islamically a good thing."
Mustafa was convicted of 11 terrorism charges.
He was related to the men Dr Quin was to be exchanged for 16 years ago, Dr Quin said.
"It's strange looking back, there was a sense of unreality."
When researching her book, Kidnapped In Yemen, "Abu Hamza was one of a number of people I reached out to."
Dr Quin said she never felt afraid of the terrorist mastermind when she was in court with him.
"It's more what he stands for that has me concerned.
"I've always been [concerned about] regimes that suppress women's rights."
Dr Quin was appointed CEO of Callaghan Innovation in March 2013.
Interviewer Susan Wood asked her if becoming head of Callaghan Innovation was a brave move, considering the company manages 350 people, and worked on 970 research and development projects for 260 businesses in the last year.
"It's challenging," Dr Quin said.
Wood pressed Dr Quin about Callaghan's investment of funding grants to New Zealand companies including Hawkeye UAV which make unmanned aerial vehicles, which Wood referred to as drones. Dr Quin said UAVs had many agricultural applications.
She holds joint NZ-US citizenship, and gained her Bachelor of Science (honours) at University of Canterbury before attending Harvard Business School.