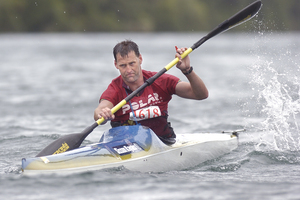 Transtasman kayaker Scott Donaldson created a scare today after his tracker failed to update his position for several hours.
Supporter John Funnell said they became concerned as the last report received from his Spot Tracker was at 11.37pm last night.
"Attempts were made to contact him on his satellite phone to no available," he said.
"After further discussions with Scott's control centre and the Rescue Coordination Centre of NZ, a search area was defined and an aircraft departed from Taupo to Scott's last known point.
"With 10 minutes of the aircraft becoming airborne information was received that Scott had sent a text message to Bob McDavitt at 7.15am and a decision was made to return the aircraft to Taupo.
"Scott's control centre has since received a phone call from Scott who confirms all is well and according to his tracking device, which is now transmitting his position, Scott at 3.20pm was only 140km from the Taranaki coast.
"We are still hopeful of a Sunday arrival, but it will be late if it is Sunday and possibly Monday.
"However we can't underestimate Scott's determination to get home to wife Sarah and his son, who he has not seen for 3 months."
Donaldson and his family lived in Rotorua before moving to Auckland to prepare for his crossing.
For more articles from this region, go to Rotorua Daily Post