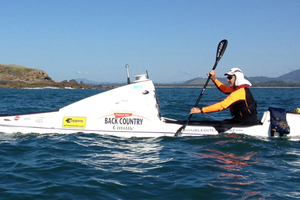 A kayaker who is attempting to cross the Tasman sea is expected to face a hail storm tomorrow as he closes in on the New Zealand coastline.
Scott Donaldson is paddling from Australia to New Zealand, and started his journey from Coffs Harbour on April 19.
Over the course of his two-month paddle Mr Donaldson has battled a broken rudder and bad weather.
He has also been dropped emergency food and water supplies twice after running dangerously low.
Mr Donaldson has since decided it is too risky to mend the broken rudder after his last attempt caused a leak, and the weather does not look set to clear anytime soon.
Rescue helicopter pilot John Funnell said weather conditions meant Mr Donaldson is currently braving gales, and is set to paddle into the path of a hail storm tomorrow morning.
Despite bad weather, Mr Funnell said Mr Donaldson was closing the gap, and was approximately 120 nautical miles away from the Taranaki coastline.
At this rate Mr Funnell expected Mr Donaldson to arrive on dry land early next week.
He said many people would be pleased to see him on dry land and his family were keen to get him back.
"He has been at sea for two months now, and has had a hell of a lot thrown at him, this is a feat I have trouble comprehending."
Mr Donaldson is aiming to raise awareness about increasing aerobic activity levels in our daily lives.
It is his second attempt at the crossing.
- APNZ