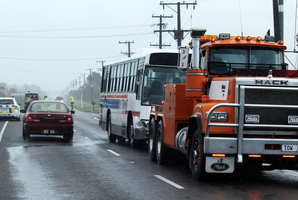 A bus driver and 10 children have been taken to Hawera Hospital for precautionary checkups after a school bus and a car collided in south Taranaki this afternoon.
The crash occurred at 2.50pm at the intersection of Neill and Palmer Roads near Kaponga.
Around 25 school children from two local primary schools were on the bus.
Police said school staff were quickly on the scene to help contact parents of the children who were taken to hospital, and to take care of those who remained at the scene.
An adult and a child who were in the car were unharmed.
Palmer Road remained closed at both ends until the damaged bus could be towed from the scene, but police expected the road to reopen shortly.
A St John Ambulance spokesman said the bus driver was treated on scene for minor injuries.
The cause of the crash is yet to be determined.
- APNZ