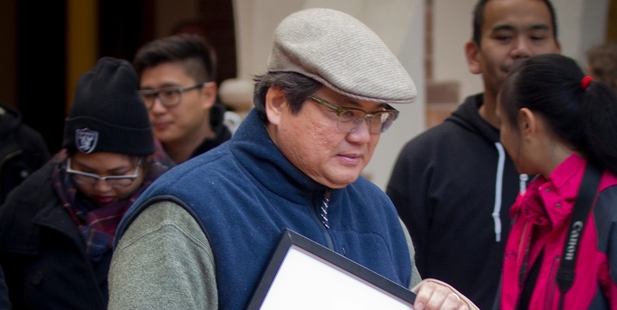 The husband and children of slain Auckland woman Blessie Gotingco say they hope her death will act as "a catalyst for change" to improve the criminal justice system.
The family spoke during a protest outside the High Court in Auckland yesterday, as the man accused of killing Mrs Gotingco stood in the dock.
About 20 supporters and family members took part in the protest, holding signs reading "Justice for Blessie", and "shame on the judicial system".
Husband Antonio Gotingco held a large framed photograph of his wife, who disappeared on her way home from work on Saturday, May 24.
The body of the 56-year-old mother-of-three was found in an area of bush at the Birkenhead-Glenfield cemetery on Eskdale Rd two days later.
Outside court yesterday, Mrs Gotingco's son John said the family were pleased that people had come to support their call for justice.
"We feel we're not going through this situation alone.
"My mother's death, while tragic, we hope it will be a catalyst for change for how to deal with crime in New Zealand," he said.
Antonio Gotingco said he was thankful for the support of the community. "I just want to see justice for my wife and safety for all."
The family did not want to be in court for the accused's appearance, protest organiser and Birkdale resident Tracey Clarke said.
Inside, the man accused of her murder was granted continuing name suppression by Justice Timothy Brewer.
The move angered supporters, who described themselves as "numb" after hearing the decision.
Suppression was opposed by Crown prosecutor Aaron Perkins.
The defendant disrupted proceedings by swearing loudly from the dock, and was removed by security and taken to the cells.
He did not enter a plea, but a three-week trial was set for March next year. The suppression order lasts until then. He will next appear for a pre-trial hearing in August.
- APNZ