'I love animals' — rescue worker makes her house a refuge for abandoned felines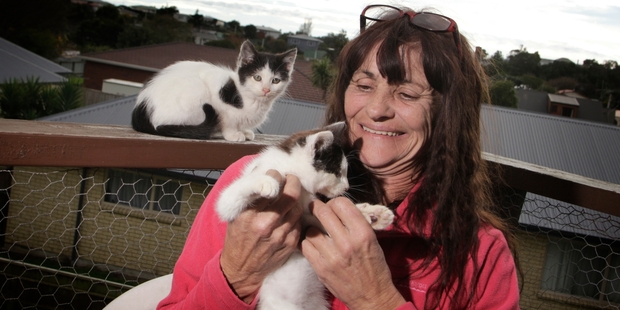 Community Spirit category: Mary Lou Nation has given up her home to help kittens.
The Gonville woman is a foster mum for Second Chance Kittys, a new group which re-homes unwanted cats and kittens in Wanganui.
People contact Second Chance Kittys and Ms Nation takes in the kittens, gets them healthy and feeds them until she can find them a home.
She also pays a portion of the de-sexing costs before handing them over to their new home.
In five months she has re-homed 65 kittens and seven cats. This week, she had 24 in her house,
She has spent $3000 of her own money on food and vet bills.
She has a fulltime job, and is aided by occasional donations made to Second Chance Kittys.
"I love animals - that's it. I'm doing it for the animals," she said. "I've more or less given up my home for them." She encouraged people to de-sex cats and said too many were being abandoned.
"It's not very nice, and people need to be educated," she said.
Her Pride of New Zealand nomination said: "She works tirelessly at this for the love of the cats and would be very embarrassed if she knew I was putting this in, as she doesn't do it for the recognition; she does it because she cares and has one of the biggest hearts I know."
Second Chance Kittys hopes to become a registered charity this year.
facebook.com/secondchancekittyswanganui
For more information on the award, visit prideofnzawards.co.nz