Baby Nikau hears his mother for the first time and says his first word — mummy — thanks to cochlear implants.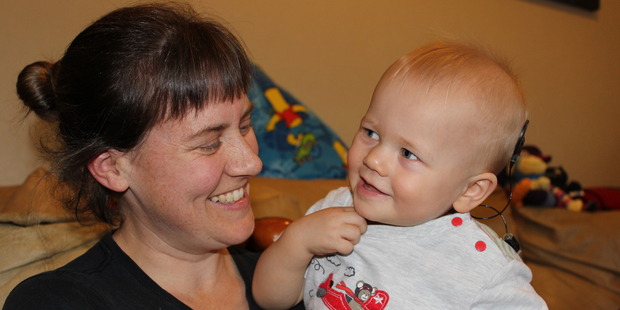 A baby's first words are special for any parent, but for Kapiti couple Katie and Fiona McMenamin hearing "mummy" was an extraordinary occasion.
The couple's 1-year-old son, Nikau Karauti-McMenamin, was born profoundly deaf. His inability to hear, confirmed during a test at five weeks, meant he relied on sound vibrations and developed slower than other children his age.
Watch: Baby hears for first time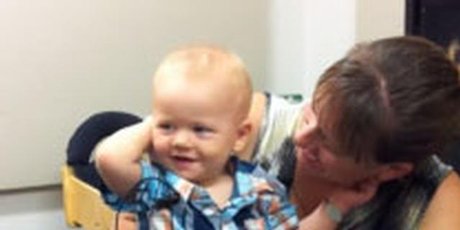 That changed when Nikau was given cochlear implants this year.
"His first word was mummy, but it was sign language as opposed to vocal. But now that he's learning how to speak, his first [spoken] word was also mummy," Fiona said.
Her partner said the day their son's implants were switched on would always be a special date on the family calendar.
"He placed his hand on my throat while I spoke and went very quiet, but you could tell he was listening while he felt the vibration," said Katie.
"I think we just said 'Hi Nikau'. He also listened to his first song which was John Lennon's Beautiful Boy. It was an amazing experience." Since then, Nikau has been catching up quickly.
"He's humming along with music and basically doing all the things little kids do," Fiona said.
A language assessment showed Nikau's comprehension and verbal skills were already on a par with those of children aged between 6 and 12 months.
Fiona said it was also important that Nikau, who interacts with deaf and hearing children, continues to use sign language.
"The implants - you can't get them wet. So when he goes swimming or he has a bath, when it's raining heavily outside, they have to be covered or have to come off. So at that point, he's deaf."
Nikau's first implant was government-funded, while his second one was paid for privately.
A fundraising campaign helped his family raise the $40,000 required.
Both his implants were fitted at St George's Hospital in Christchurch in February.
He needs six-monthly check-ups until he turns 5. After that, specialists will track his progress for the rest of his life.
In last month's Budget, the Government announced an extra $6.3 million funding for the child cochlear implants programme over four years. At least $2 million will fund a second implant for children under 6 who have already received one implant through the programme.
Implants in New Zealand
• First implant in 1986.
• Each costs about $50,000.
• If implanted early, a single implant can provide good language outcomes for young children deaf since before they could learn to speak.