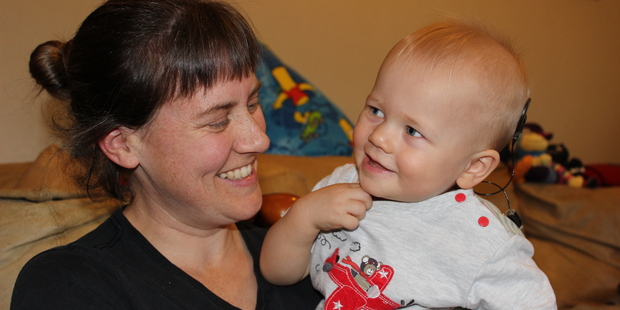 It was an emotional time when Nikau Karauti-McMenamin's cochlear implants were switched on for the first time.
"It was an amazing experience," says proud mother Katie McMenamin, who watched the life-changing moment with partner Fiona McMenamin.
"He placed his hand on my throat while I spoke and went very quiet, but you could tell he was listening while he felt the vibration.
"I think we just said 'Hi Nikau'.
"He also listened to his first song which was John Lennon's Beautiful Boy."
Watch Nikau hear sounds for the first time here: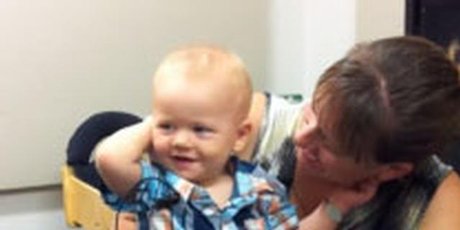 Nikau, 1, from Otaihanga, on the Kapiti Coast, was born profoundly deaf.
The condition was diagnosed during a hearing screening test when he was about five weeks old.
Cochlear implants would enable him to hear so a decision was made to have the procedure.
A cochlear implant is a surgically implanted electronic device that provides a sense of sound to a person who is profoundly deaf or severely hard of hearing.
Nikau's first implant would be government funded but the second, at a cost of about $40,000, had to be funded by his family.
A fundraising campaign was instigated by a small dedicated team and via various donations, a golf tournament, music night and garage sale, the funds were raised within a few months.
Both implants were put in the same time at St George's Hospital, Christchurch, on February 20. On March 18 the implants were switched on.
Since the implants were turned on, Nikau's learning has steadily improved. His first words were "Mum" and "Mama" and according to a recent language assessment, after only 11 weeks of hearing, his comprehension and verbal skills are already on par with those of children between the ages of six to 12 months. He also hums along to his favourite nursery rhymes and loves dancing to music.
Katie and Fiona's devotion to learning sign language has been an added bonus to his development too.
After some tweaking to ensure the implants were at the right levels, Nikau is hearing normally and coming out with very good speech.
He needs to go to Christchurch every six months until he is 5, and then every year for the rest of his life, so specialists can track his progress and ensure the implants are functioning correctly.
Until he is 18, parts for the implants, such as batteries, are funded by the state.
"We are so lucky," Katie says.
"We are hoping to put a little bit aside so when he hits 18 he will have enough to fall back on until he's earning enough to cover the costs."
In the recent Budget, the government announced children needing cochlear implants would have both state funded, not just one.
Read more:
• Incredible moment a deaf woman hears for the first time